Review of Full Tilt Poker for 2011
Published on 2009-05-29 20:00:08
Full Tilt Poker Review 2011
Room:
Full Tilt Poker
Ranking:
9.7/10
Click Here To Visit Full Tilt Poker
Review: Full Tilt Poker has slowly and methodically built itself up into being the second largest online poker room in the world.
Full Tilt Poker burst onto the scene in 2004, and have grown wildly since then due to:
1. The large and diverse roster of "sponsored pros" that they have under contract
2. An aggressive sign-up bonus.
3. The biggest online cash games of any site in the world.
These three things have combined into making Full Tilt Poker one of the largest online poker rooms in the world.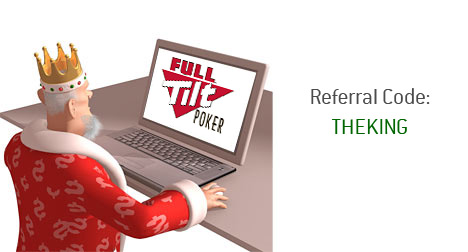 Let's start with the things that I like about Full Tilt Poker (I play there myself):
PROS
-100% signup bonus of up to $600 for new customers (don't forget to use the "referral code" of
THEKING
when signing up to qualify).
-a vast array of cash games, SNGs and MTTs
-an easy-to-navigate lobby
-a software package that is highly configurable and easy on the eyes
-a number of value-added promotions
-the FTOPS (Full Tilt Online Poker Series), which runs multiple times per year
-a diverse selection of deposit and withdrawal options
-a very large base of players (which means that you will find action on the site at all hours of the day)
-a roster of sponsored pros that includes some of the biggest names in the world (Hansen, Ivey, Antonius).
Those are the pros. This is a very strong list of reasons to play at Full Tilt Poker, but I would be remiss if I didn't mention a couple of things that I wish that Full Tilt Poker would improve on:
CONS
-their customer service could be better, especially when compared to the outstanding service that Pokerstars provides
-they need to encourage their "big" players under contract (Phil Ivey, Antonius, etc) to drop down to play with some of the "common" people more often. "Play with the Pros" is a major part of their marketing campaign, and I think that they should do a better job of enforcing this with their signed pros
-occasional issues with outages (though they are much better than they used to be in this regard)
Overall I believe that having an account at Full Tilt Poker is a MUST for any online poker player. You need an account at both Pokerstars AND Full Tilt Poker, or you are missing out on too much action.
In order to qualify for the 100% bonus of up to $600 that Full Tilt Poker offers, you need to do the following things:
1. Download the Full Tilt Poker software.
2. Sign up for an account.
3. When prompted for a Full Tilt Poker Referral Code, enter
THEKING
.
4. Deposit real money onto the site. REMEMBER: the size of your INITIAL deposit on the site determines the size of your bonus.
5. "Earn" your bonus by playing in real money cash games, SNGs and MTTs.
Have fun at Full Tilt Poker, and don't forget to look for the King on the tables!
Full Tilt Poker Review 2011
--
Filed Under:
Poker Bonus Promotions