Porsche Cayman S Up For Grabs in the Turbo Takedown on Pokerstars This Sunday
Published on 2009-05-28 07:26:26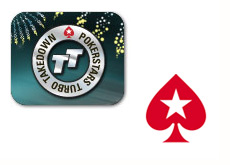 Normally I don't write posts like this, but I really don't want any of the readers of this site to miss out on the special edition of the "Turbo Takedown" on Pokerstars this Sunday.
To celebrate the one year anniversary of the "Turbo Takedown" tournament, Pokerstars is giving away a Porsche Cayman S to the winner of this Sunday's tournament, in addition to the standard $40,000 first place prize.
Pokerstars wants to get as many of their players in on the action as possible, so they have decided to:
1) Lower the "buy-in" to just 2,000 FPPs (instead of the usual 5,000 FPPs)
2) Increase the cap on the tournament to 30,000 players
I thought that I would mention this tournament in an article because nearly 19,000 players have already registered to play, and the tournament is still 3 1/2 days away. There is no way that this tournament won't hit its cap, so please consider this fair warning.
You can only buy into this tournament with FPPs - you can't buy in with cash.
If you don't have 2,000 FPPs in your account, then you can qualify through a number of FPP satellite tournaments. Satellites are running all the time and have buy-ins as low as 8 FPPs.
If you do have 2,000 FPPs in your account, then you should definitely sign up to play in this tournament. Someone is going to transform just 2,000 FPPs into $40,000 cash, plus a brand new Porsche Cayman S.
Each person that reaches the final table of the tournament will receive at least $4,000. The top 10,000 finishers will all receive a small portion of the $1 million dollar prize pool.
Good luck, and have fun.
--
Filed Under:
Poker Room News