"TheASHMAN103" Takes Down $25k NLHE Heads-Up Championship
Published on 2009-05-25 22:46:33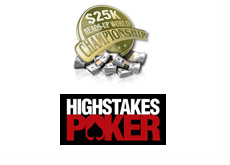 The $25k NLHE Heads-Up Championship on Full Tilt Poker wrapped up on Sunday afternoon, with "TheASHMAN103" eventually being crowned the champion.
"TheASHMAN103" defeated Full Tilt Poker "red pro" David Benefield to take down the title. "TheASHMAN103" took home a little over $550k for winning the tournament, while David Benefield made $315k for his second place finish.
Many of the top pros that registered to play in this tournament were knocked out early. Phil Ivey, Tom Dwan and Gus Hansen were all knocked out in the early rounds, which left a field that was mainly devoid of big names. Of the eight players that cashed, David Benefield was the most recognizable name.
"Winnerfish" and "yogiblair" both made it to the final four on Sunday, and both ended up taking home just over $165k for making it to the semi-finals.
David Singer, the defending champion of this event, finished in 12th place.
Here is a rundown of the players that were able to cash:
"TheASHMAN103", $551,250
David Benefield, $315,000
"WinnerFish", $165,375
"yogiblair", $165,375
"Past", $94,500
"Kadabra", $94,500
"IvanLendL", $94,500
"Vaga_Lion", $94,500
--
Ilari "Ziigmund" Sahamies won the second largest cash game pot in online poker history earlier this weekend. Tom "durrrr" Dwan was once again on the losing end of a monster pot - the largest ever online poker pot also involved "durrrr", and he ended up losing that one as well (to Di "Urindanger" Dang).
This pot came in a heads-up $500/$1000 PLO game.
Before the hand, "durrrr" had about $414k, while "Ziigmund" had around $350k.
There was already $54,000 in the pot when the flop came 2-J-10 with two spades.
Both players checked.
The turn was the 7 of diamonds, and both players shipped the rest of their stacks into the middle of the table. Most observers figured that both had 8-9 for the straight - however, it was only "Ziigmund" that held the 8-9.
"Ziigmund" turned up J-9-7-8 for a turned straight and two pair. "durrrr" surprised everyone by showing Q-5-8-10 for a flush draw, along with a gut shot straight draw and a pair of tens.
The river brought the Jack of clubs, which gave "Ziigmund" a full house and the $702k pot.
With the help of this monster pot, "Ziigmund" is now up over $2 million dollars on the year on Full Tilt Poker, according to
HighstakesDB.com
.
--
The final episode of Season 5 of "High Stakes Poker" aired last night.
The final hand of the season was a very large pot between Tom "durrrr" Dwan and Alan Meltzer.
Dwan held J-10 offsuit, while Meltzer held K-K.
Phil Laak initially raised to $3,100 holding 5-5. David Peat called with the Q-9 of clubs. Dwan raised to $14,000 with his J-10 offsuit. Meltzer was dealt K-K, and put in a raise to $30,000. Laak and Peat both folded, while Dwan elected to call.
The flop came 3-A-10 with two hearts. Meltzer led out with a bet of $30,000, and Dwan elected to call.
The turn was the Jack of diamonds. Meltzer checked, Dwan bet $46,200 and Meltzer called.
The river was the Jack of spades. Meltzer checked, Dwan pushed (about $145k), and Meltzer called after a bit of thought.
Dwan showed the full house and took down the $514k pot.
This was a strong season of "High Stakes Poker", and I can only hope that GSN decides to bring it back for a sixth season.
--
Filed Under:
Cash Game Results
|
Online Poker Tournament Results