Patrik Antonius Up Almost $4 Million Dollars on Full Tilt Poker This Year
Published on 2009-04-17 07:03:26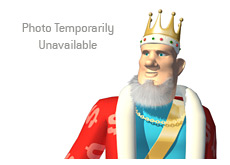 2009 is only about 3 1/2 months old, but that hasn't stopped Patrik Antonius from racking up almost $4 million dollars in profit on Full Tilt Poker so far this year.
Antonius has been bludgeoning the competition on Full Tilt this year, and is currently up around $3.85 million dollars over 63,500 tracked hands.
Considering that the biggest winner on Full Tilt Poker in 2008 (Phil Ivey) made around $7.34 million dollars, this is an unbelievably strong start and it will be interesting to see if Antonius can keep up this pace throughout the year.
What makes the profit total even more impressive is the fact that there really haven't been any easy marks in the high-stakes games this year. Guy Laliberte, who has donated millions upon millions of dollars to the high-stakes poker economy in the past few years, has largely been absent from the games in 2009.
This means that Antonius has won the bulk of his money off of some of poker's best and most talented players.
The top three losers on Full Tilt Poker in 2009 aren't exactly weak players. They are:
Di "Urindanger" Dang (-1.82 million dollars)
Sami "LarsLuzak" Kelopuro (-1.07 million dollars)
David "MR B 2 U SON" Benyamine (-1.03 million dollars)
These three guys aren't exactly fish, which makes the near $4 million dollars in profits for Antonius so far this year even more impressive.
Antonius has always done well on Full Tilt Poker (and on pretty much any online site), but he has used so many different aliases in the past that it has been hard to keep track of his overall profits. As mentioned, it will be interesting to see where he finishes up this year.
Other players that are off to strong starts on Full Tilt so far this year include:
Hac "trex313" Dang (+3.23 million dollars)
Mark Vos (+1.88 million dollars)
Phil Ivey (+1.3 million dollars)
Gus Hansen (+1.27 million dollars)
Source:
HighStakesDB.com
--
Filed Under:
Cash Game Results