Chuck Liddell To Be Ultimatebet Sponsored Fighter at UFC 97
Published on 2009-04-08 03:11:24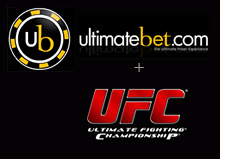 The UFC and Ultimatebet announced earlier today that the two companies had officially inked a deal for UFC 97, which will take place later this month in Montreal, Quebec, Canada.
There will be a number of elements to the sponsorship, including "opening billboards, in-venue commercials" and the sponsorship of a number of fighters who are participating on the card, including Chuck Liddell.
Other fighters who will be wearing the UB logo at the event include Thales Leites, Krzysztof Soszynski, Antoni Hardonk and Eliot Marshall.
A few weeks ago, rumors surfaced that the UFC had banned their fighters from wearing Full Tilt Poker logos into the Octagon.
The reason for the ban is now clear - the UFC was on the verge of inking a deal with Ultimatebet.
Full Tilt Poker was aggressively advertising their brand at a number of recent UFC events, and I'm not quite sure how they let themselves get outbid and outmaneuvered by one of their rivals.
Full Tilt is still pushing their "Full Tilt Fight Train" promotion, which will see a number of their customers attend UFC 97 along with Howard Lederer, Erick Lindgren and several other Full Tilt pros. It's a bit humorous that Howard Lederer will be in attendance, considering that the UFC banned Full Tilt Poker from advertising at their events and signed a deal with Ultimatebet.
According to the press release, Ultimatebet and the UFC "genuinely share a passion for champion competitors and a respect for the sporting ideal". Um, ok.
The UFC has the perfect target audience for an online poker room, and I'm not surprised that there was such an aggressive move made by Ultimatebet to ink a sponsorship deal.
I'm just surprised, given their immense resources, that Full Tilt Poker allowed itself to be outbid by a competitor.
Source: MMAPayOut.com -
Ultimatebet Official as UFC Sponsor
--
Filed Under:
Poker Room News