Recap of HSP Season 5, Episode 6
Published on 2009-04-06 10:38:22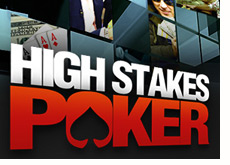 The sixth episode of the fifth season of High Stakes Poker featured a monster pot between Tom "durrrr" Dwan and Barry Greenstein, as well as the continued run of poor luck for Daniel Negreanu on the show.
The line-up for this week's show was the same as the previous five episodes - Tom "durrrr" Dwan, Daniel Negreanu, David Benyamine, Eli Elezra, Ilari "Ziigmund" Sahamies, Barry Greenstein, Peter Eastgate, and Doyle Brunson.
The first hand of the episode saw Dwan take down a small pot after over-betting on the river with absolutely nothing (6-3 of hearts on a board of A-5-10-J-A with no flush).
The next hand started with a 2k straddle from Eastgate and a 4k straddle from Brunson.
Greenstein raised to 15k holding A-J of spades. Peter Eastgate called holding K-7 of spades, while Brunson also elected to call with J-9 offsuit.
The flop came J-3-7 rainbow (one spade).
Eastgate checked, Doyle bet $35,000, Greenstein called, Eastgate raised to 104k, Doyle folded and Greenstein called.
The turn was the 10 of spades.
Eastgate checked, Greenstein bet 175k (now holding top pair/top kicker with the nut flush draw) and Eastgate elected to fold.
On the next hand there was a 2k straddle from Greenstein and a 4k straddle from Dwan.
David Benyamine raised to 20k holding 9-9. Sahamies called with A-7 of hearts, while Negreanu also opted to call with A-3 of spades.
Greenstein elected to put an end to the hand on the spot by raising to 175k with A-K of clubs. Everyone folded, and Greenstein took down the pot before a flop was seen.
After a few smaller pots, viewers were finally treated to the monster pot between Dwan and Greenstein that was hyped on last week's show.
Eastgate was dealt A-K offsuit and raised to 3,500.
Greenstein was dealt A-A and raised to 15k.
Dwan was dealt K-Q of spades and called, as did Eastgate with his A-K offsuit.
The flop came 4-2-Q with two spades.
Dwan led out with a bet of $28,700, Eastgate folded, Greenstein raised to 100k, Dwan re-raised to $244,600, Greenstein pushed and Dwan elected to call, creating a total pot size of well over $900,000.
The players decided to run it just once, and Dwan also refused an offer to take some money out of the pot.
The turn was the Queen of clubs, putting Dwan way out in front in the hand. He now held trip Queens as well as a flush draw - Greenstein would now need the remaining Ace in the deck to win the hand.
The river brought the 7 of diamonds, and Dwan raked in the huge pot, exacting his revenge for a hand earlier in the season that saw Greenstein suck out on Dwan holding J-9 vs AA.
Sahamies and Negreanu then got involved in a weird pot that saw both of the players get all-in after a flop of 4-3-A rainbow. Both players held 7-5 (?) and ended up chopping the pot.
The next hand on the show saw Ilari Sahamies bust Daniel Negreanu.
Sahamies raised to 4500 preflop holding J-6 of diamonds, and Negreanu called holding K-Q offsuit.
The flop came Q-6-3 rainbow. Sahamies bet 8k, and Negreanu elected to call.
The turn was the 6 of hearts, giving Sahamies trip 6's.
Sahamies bet 27k, Negreanu pushed and Sahamies made the call.
The river was the 3 of clubs, and Sahamies was awarded the 232k pot. Negreanu decided that he had had enough and left the poker room. Don't worry Negreanu fans - he is apparently back for next week's show.
The next two big pots both involved Peter Eastgate.
The first hand saw him dump a 331k pot to David Benyamine. Benyamine, who held 99, flopped a full house (9-Q-Q). Eastgate held J-9 of spades and elected to call Benyamine's progressively larger flop, turn and river bets, thinking that Benyamine was bluffing. Unfortunately for Eastgate, Benyamine had flopped a monster and ended up taking down his second large pot of the season.
On the very next hand, Eastgate got all of his money back, and then some.
With the board reading Q-6-4-6-2, Eli Elezra led out with a bet of 55k.
Eastgate, holding 6-4 offsuit for a full house, pushed all-in.
Elezra, who had hit his straight on the river (5-3), elected to make the call, and Eastgate won the 417k pot.
The last two hands of the episode featured small pots that were won by Tom Dwan and Doyle Brunson.
There will be a new line-up of players for next week's episode.
Some of the names that will be featured include: Patrik Antonius, Daniel Negreanu, Phil Laak and Howard Lederer.
--
Filed Under:
Poker on TV