Ivey Up $3.4 Million Dollars on Full Tilt In the Past Month
Published on 2009-03-11 08:08:13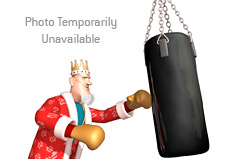 After getting off to a rocky start in 2009, Phil Ivey has come roaring back and is now up over $1.3 million dollars on Full Tilt Poker this year.
Ivey ended 2008 as the single biggest winner on Full Tilt Poker, raking in a total of $7.34 million dollars over just 95,884 tracked hands. This put him ahead of such players as Phil Galfond, Tom Dwan and Di Dang.
When Ivey got off to a poor start in 2009, many people were naturally a bit surprised. No player, no matter how good they are, is going to avoid down months when they regularly play in $500/$1000 games against the best players in the world. However, when Phil dropped nearly $1.8 million dollars over the first 45 days of the year, people were still a bit surprised.
Over the past month (February 10th until now), Phil Ivey has returned to his old dominating ways. He has destroyed anyone and everyone in his path, raking in a total of $3.4 million dollars over just 11,004 tracked hands. This works out to a total profit of around $309 for each and every hand that he has played over the past month.
A great deal of Ivey's profits in 2009 have come at the expense of Tom "durrrr" Dwan, who is currently suffering through a very large downswing.
With his incredible turnaround over the past month, Phil Ivey has climbed out of the red and is now up over $1.3 million dollars on the year. This makes him the fourth most profitable player in 2009 on Full Tilt, behind Hac "trex313" Dang (+4.2 million), Mark Vos (+1.87 million) and Gus Hansen (+1.45 million).
Source:
HighStakesDB.com
--
Filed Under:
Cash Game Results