25% Reload Bonus at Pokerstars
Published on 2009-02-12 06:56:08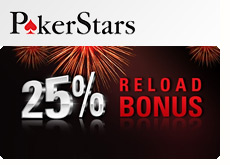 Normally we don't do these types of posts on this blog, but I would hate for anybody to miss out on any free money.
As part of their "25 Billion Bash", Pokerstars is offering their "biggest ever reload bonus". The "25 Billion Bash" is a celebration of the 25 billionth hand that is set to be played on the site, and includes a number of different promotions and cash prizes. I have included a link to the 25 Billion Bash page below if you would like more details.
Anyways, here are the details of the 25% Reload Bonus and how you can qualify:
-the qualifying period is from Feb 11th 12:00 ET to February 18th 23:59 ET
-this is a 25% reload bonus of up to a maximum of $250
-in order to qualify for the reload bonus, enter
25bash
when you are depositing. You will be prompted for a "bonus code", which will appear below your deposit details. Enter the code here.
-this reload bonus only applies to your
FIRST
qualifying bonus
-in order to qualify for the maximum $250 reload bonus, you would need to deposit at least $1,000
-if you need to increase your deposit limit, then contact Pokerstars Support
-players must earn 20 VPPs for every $1 in bonuses
-players have a total of six months to earn this bonus
-note from Pokerstars: "If you cash out any amount from your PokerStars account during the Bonus Period, but prior to making a qualifying deposit, you are ineligible for the deposit bonus."
For more details on the 25% Reload Bonus,
click here
.
Remember to enter the
bonus code
of
25bash
to qualify for the reload bonus.
Source: Pokerstars -
25 Billion Bash
--
Filed Under:
Poker Room News