Million Dollar Cash Game Gets Underway
Published on 2009-01-25 11:57:09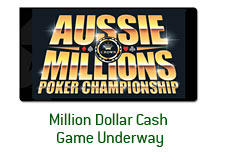 The Million Dollar Cash Game is now underway at the 2009 Aussie Millions.
Some of the names who are currently participating in the action include Tom "durrrr" Dwan, Patrik Antonius, Niki Jedlicka, Phil Laak and Andrew Robl.
Dwan and Antonius kicked off the action with some ultra high-stakes, heads-up play. Antonius brought $1.5 million dollars AUD to the table, while Dwan brought $2 million dollars AUD. Dwan put half of his money on the table and left the other half in case he had to rebuy, while Antonius put his full stack into play.
The two players decided on $1,000/$2,000 blinds, with a mix of No Limit Hold'em and Pot Limit Omaha.
In an effort to improve the game, Dwan and Antonius:
1. Attempted to lure Gus Hansen into the mix (Gus claimed that he couldn't play since he had been drinking).
2. Offered players in the baccarat room $25,000 to play in the game. The stipulation - they had to buy in for at least $250,000, and play for at least 100 hands. No one took them up on this offer.
Before the blinds were lowered and other players entered into the game, Antonius got the best of "durrrr". We don't have the final numbers as of yet, but Antonius was up around $523k AUD about an hour before the game opened to the other players. I've heard that Antonius ended up winning about $400k AUD from Dwan in their heads-up battle, but this is unconfirmed.
The blinds are now $500/$1000, and the game is now six-handed. Jamie Pickering, Andrew Robl, Phil Laak and Niki Jedlicka have all bought in for $200k AUD each. The game has tightened up considerably since these four players sat down at the table.
We'll keep an eye on things at the Million Dollar cash game, and update this article with any big hands that are played.
Big Hand #1:
Laak vs Jedlicka. After a bunch of pre-flop raising, Phil Laak and Niki Jedlicka get all-in for about $200k each.
Laak turns up A-K offsuit, while Jedlicka turns over A-A.
They run it twice, and Jedlicka's pocket aces hold up both times. Laak rebuys for a fresh $200k.
--
Filed Under:
Cash Game Results