2010 Party Poker Bonus Code
Published on 2008-12-29 21:55:44
2010 Party Poker Bonus Code
-->
KINGBONUS
2008 was a year of transition for Partygaming, which is the parent company of Party Poker.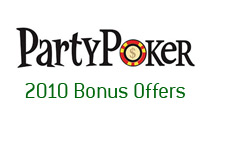 A number of changes were introduced in order to make Party Poker more competitive.
One of the biggest changes was the introduction of the "Super Sign-Up" bonus. which put Party Poker's initial deposit bonus more in line with what some of their competitors are offering.
The "Super Sign Up" bonus is a 100% matching bonus of up to $500. This is a dramatic improvement over their older bonus offers, which usually gave new players a 30% matching bonus of up to $150.
The "Super Sign Up" bonus is a relatively new offer from Party Poker, and 2010 will be the first full year that they have offered this lucrative bonus.
How exactly does it work?
Well first off, this offer is only available to people who haven't already deposited on Party Poker. It is an INITIAL sign-up bonus, and only applies to those who are depositing for the first time.
Once you download the Party Poker software, you will be prompted to create an account. During the sign-up process, you will be prompted for a bonus code. At this point, enter
KINGBONUS
to ensure that you receive the 100% matching bonus.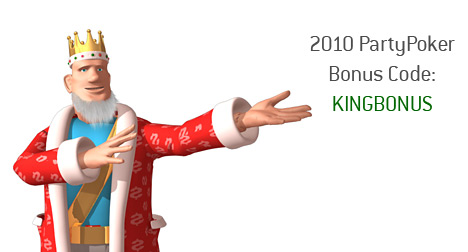 Note: be careful as there are still some older bonus offers floating around. You don't want to get stuck with a 30% bonus offer when you could have receive 100% up to $500.
Now that you have your account set up, you will now have to deposit real-money onto the site in order to receive your bonus. As mentioned, the size of your bonus is determined by the size of your initial deposit, so keep that in mind.
Note: you need to deposit at least $25 in order to qualify for the 100% matching bonus offer.
Once you have deposited, you will have 90 days to fully clear your bonus.
Bonuses are earned in 20% increments. This means that if you deposit $100 and are eligible for a 100% sign-up bonus, then you will receive your bonus in $20 increments.
Bonuses are "earned" through participation in real-money cash games, MTTs and SNGs. The faster that you earn PartyPoints, the faster that you will earn your bonus.
You need to earn 5x the amount of your initial deposit in PartyPoints in order to fully earn your bonus. So, if you deposit $100, then you would need to earn 500 Party Points in order to claim your full bonus.
I can highly recommend Party Poker, and if you are looking for a new poker room in 2009, then Party Poker would be a great room to take your business.
2010 Party Poker Bonus Code
-->
KINGBONUS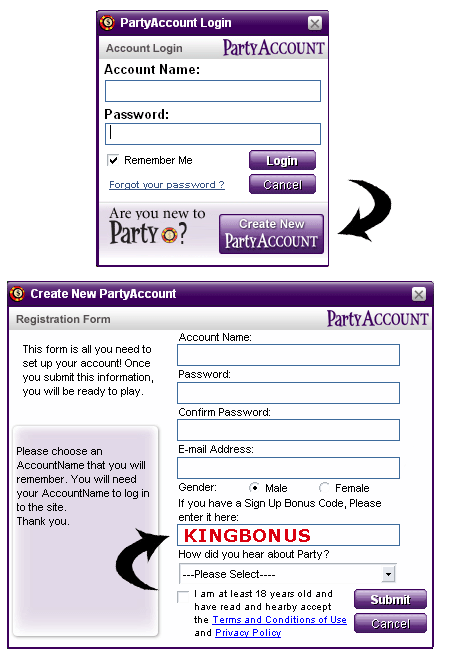 --
Filed Under:
Poker Bonus Promotions