Who is Papa Ninja?
Published on 2008-12-19 22:32:59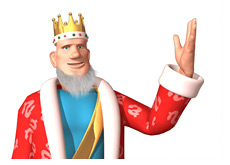 1.
Who is Papa Ninja?
We've received dozens of emails over the past few days, asking us if we know who the mysterious "Papa Ninja" is on Full Tilt Poker.
Papa Ninja popped up a few days ago and immediately started wrecking the high-limit PLO games on the site. He started at 50/100, moved up to 100/200 and then appeared at 200/400, dominating all the way.
After just two days of action on the site, "Papa Ninja" raked in over $600k worth of profits, including a scorching +421k performance on his first day.
So who is this mystery man?
We aren't 100% sure yet either.
Some people have speculated that it might be David Benyamine's new alias, but this isn't the case - the two players have already played against each other, with Benyamine using his "MR B 2 U SON" account.
Others have said that it might be Sami "LarsLuzak" Kelopuro, but apparently "LarsLuzak" and "Papa Ninja" have also squared off against each other. This eliminates another player from the discussions.
Is it a "live" pro who decided to create an account and play some hands online because the games were good?
Is it a well-known online pro playing under a new account?
We'll keep our ears open - in the meantime, "Papa Ninja" continues to destroy the high-stakes PLO games on Full Tilt.
2.
Hansen Hangout.
Speaking of high-stakes PLO games on Full Tilt - a new table called "Hansen Hangout" has opened on the site.
This is a six-handed, $500/$1000 Pot Limit Omaha table that is sure to see plenty of action. PLO has really become the game of choice amongst top pros over the past few years, and I have no doubt that this table will be a magnet for some pretty sick action.Keep an eye on it..
3.
Anurag Dikshit.
I'm sure you've heard by now that Anurag Dikshit, co-founder of PartyGaming, pled guilty to a single charge related to online gambling earlier this week.
Dikshit also agreed to fork over $300 million dollars to US authorities, which is a good-sized chunk of his estimated $1.75 billion dollar fortune.
That's a tough hit for anyone to take, however things weren't as bad as they seemed for Dikshit this week.
At the beginning of the week, PartyGaming's shares were trading at 135, giving the company a valuation of around 555 million pounds, or about $828 million dollars US.
Midway through the week, it was announced that Dikshit was going to plead guilty and fork over $300 million dollars. PartyGaming released their own statement, saying that settlement negotiations with the US DoJ were "ongoing", and that they expected any settlement to cost them far less than $300 million dollars.
The stock soared on the news, and ended the week up about 49%.
Dikshit still has a 27% stake in the company. Prior to his guilty plea, his stake in PartyGaming was worth about $224 million dollars.
After his guilty plea, Dikshit's stake was worth an additional $110 million dollars.
Dikshit still lost $190 million dollars on the week - however, he is still a billionaire, and likely won't have to face any jailtime in the United States when he is finally sentenced. All in all, things could have certainly been worse for the Indian billionaire.
4.
Doyle Brunson Classic.
The winner of the "Doyle Brunson Classic" will be crowned later today.
A number of big names were knocked out yesterday, including Mike Matusow, Robert Mizrachi, Nick Schulman and Clonie Gowen.
Here are the current chip counts heading into the final table:
Steve Sung - 5.9 million
Evan McNiff - 4.8 million
David "Chino" Rheem - 4.24 million
Amnon Filippi - 2.75 million
Justin Young - 2.41 million
Hoyt Corkins - 2.3 million
This should be a great final table - keep your eye on Amnon Filippi, as he is an extremely talented player who flies under the radar of many people.
5.
Happy Holidays.
Just wanted to wish all of the readers of this site a Happy Holidays. Stay safe.
--
Filed Under:
Cash Game Results
|
Poker Room News
|
King Updates