497 Players Entered the 2008 Doyle Brunson Classic
Published on 2008-12-15 15:20:04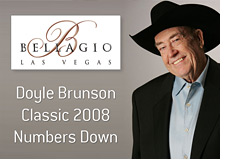 The economic meltdown appears to have had an impact on the turnout for the "Doyle Brunson Classic".
Last year, 626 players took part in the tournament, making for a total prize pool of almost $9.4 million dollars. The first place winner (which ended up being Eugene Katchalov) ending up taking down almost $2.5 million dollars for his first place finish. Ted Kearly, who finished the tournament in second place, also took home over a million dollars ($1.25 million dollars).
Fast forward one year to the 2008 "Doyle Brunson Classic".
The total number of entrants this year dipped significantly. 497 players took part in the tournament, creating a total prize pool of around $7.23 million dollars. This is about 130 players less than last year, and the prize pool will obviously be significantly smaller.
The first place payout this year will be $1.53 million dollars, and the second place finisher will receive $936k.
This turnout stops the trend of the "Doyle Brunson Classic" growing in size, year over year. The "Doyle Brunson Classic" is one of the most prestigious tournaments of the year, due to the high concentration of pros in the field, slow structure and large payouts. The biggest names in poker always turn out for this tournament, including the likes of Daniel Negreanu, Phil Ivey and David Benyamine.
Aside from the World Series of Poker, US-based "live" poker tournaments had pretty weak turnouts across the board this year. It will be interesting to see whether or not 2009 will be more of the same.
--
Day 1B of the tournament wrapped up last night, and on Monday, the survivors from Day 1A and 1B will combine. The chipleader heading into Day 2 will be Paul Niemela, who currently sits with a stack of 261k. Evan McNiff will enter Day 2 in second place, and Phil Hellmuth Jr. will enter in third place.
There are a ton of well-known names left in the field, including Hellmuth, Phil Ivey, Daniel Negreanu and David Benyamine, just to name a few.
Day 2 of the $15k buy-in tournament will pick up at 12 pm on Monday afternoon.
--
Filed Under:
Random Poker News