Phil Ivey Up Over $10 Million Dollars Since Beginning of 2007
Published on 2008-12-11 16:36:50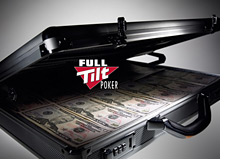 After a relatively boring November, the high-stakes cash game action on Full Tilt Poker has really taken off over the past week or so.
There are currently four players that have banked over a million dollars worth of profit over the first 10 days of December. On the opposite end of the spectrum, there are three players who have lost in excess of seven figures since December 1st.
The big winner so far this month is Tom "durrrr" Dwan, who has banked just over $1.3 million dollars over 8,786 hands. "durrrr", as always, has been right in the middle of the action on "GusHeaven" and "RailHeaven". Dwan is up over $2 million dollars in the high-stakes NLHE games on Full Tilt so far this month, and has obviously given some of his money back in Pot Limit Omaha. Dwan is up approximately $4.5 million on Full Tilt so far in 2008.
Next up on the list in December - Phil Ivey, who has made just under $1.1 million dollars in 10 days. Ivey has played just 5,055 tracked hands so far this month, which means that he has made over $217 for every hand that he has played in December. Ivey is up over $8.2 million dollars in 2008, and just over $10 million dollars since the beginning of 2007.
Phil "OMGClayAiken" Galfond has made over $1.07 million dollars in December, while the always-consistent Di "Urindanger" Dang has banked $1.037 million dollars of profit. Galfond and Di Dang are also 3-4 in total profits year-to-date, with Galfond banking $4.45 million dollars and Dang taking down $3.94 million dollars. Di Dang and his brother Hac, who plays under the alias "trex313", are up a combined $7.2 million plus on Full Tilt in 2008.
Patrik Antonius rounds out the top five in December, having made just under $900k. "world1969" has also had a strong month, making almost $500k in just 3,677 tracked hands.
Biggest loser on Full Tilt in December? Ilari "Ziigmund" Sahamies, who has lost just over $1.4 million dollars on the month. "Ziigmund" had a particularly bad session earlier this week that resulted in all of his losses for the month.
David "MR B 2 U SON" Benyamine is down $1.25 million dollars in December over 4.447 tracked hands.
"elmariachimacho" (-1.22 million), Cole South (-873k) and Gus Hansen (-868k) round out the top five list of losers so far in December.
"mastrblastr" (-477k), Isaac "luvtheWNBA" Haxton (-420k) and Eli Elezra (-253k) have also had off months so far.
Source:
HighStakesDB
--
Filed Under:
Cash Game Results