Pokerstars Will Soon Begin Banning Players for Using Sharkscope
Published on 2008-11-06 01:32:07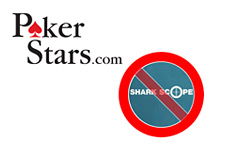 Do you like to check up your opponents using Sharkscope while playing on Pokerstars?
If this is the case, consider yourself warned - Pokerstars will no longer be allowing their players to access Sharkscope (including the Sharkscope HUD and sharkscope.com itself) due to Sharkscope finding itself on the Pokerstars "Prohibited Online Poker Software Programs" list.
Pokerstars has said that they will be issuing "alerts" to players found using Sharkscope until November 15th. After that, the company says that they will be "closing the accounts of players found to be using Sharkscope despite having received and acknowledged a warning."
Pokerstars has a page which lists all of the "tools and services" that are prohibited. Sharkscope is included on a list of tools and services that Pokerstars says are prohibited "at all times."
Underneath this list is another which includes tools and services that are prohibited "while Pokerstars is running." Sharkscope is not on this list.
The "Prohibited Online Poker Software Programs" page (link below) would seem to indicate that players at Pokerstars can't EVER use Sharkscope again, or else they run the risk of being banned. That's what "at all times" would indicate to me, compared to "while Pokerstars is running".
However, representatives from Pokerstars have been emailing players, telling them that they are just prohibited from using Sharkscope while the Pokerstars client is running. This has led to a great deal of confusion in the online poker community. Pokerstars needs to do a better job of clarifying this - if I'm confused, then I'm sure that other people are confused as well.
At the very least, don't access Sharkscope while your Pokerstars client is open and running. If you are unsure as to whether or not you can use Sharkscope while your Pokerstars client is closed, then I would recommend sending Pokerstars support an email, asking for clarification.
If you are wondering how Pokerstars is able to detect what you are running on your computer, here is section 5.6 from their Terms of Service:
"
5.6.
You agree that PokerStars may take steps to detect and prevent the use of prohibited EPA Programs. These steps may include, but are not limited to, examination of software programs running concurrently with the PokerStars Software on the User's computer."
Source:
Prohibited Online Poker Software Programs (Pokerstars)
Terms of Service (Pokerstars)
--
Filed Under:
Poker Room News