Exclusive Canadian Party Poker Bonus
Published on 2008-10-24 13:51:26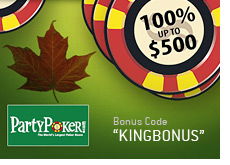 Canadian Party Poker Bonus -->
KINGBONUS
Party Poker has taken some hits over the past few years.
Because they were a publicly traded company, Partygaming was forced to withdraw from the US market once the UIGEA was introduced. This led to Party Poker sliding down the list of biggest online poker rooms after Pokerstars and Full Tilt Poker decided to remain in the American market.
However, Party Poker has undertaken a number of new initiatives as of late to build up their market share. One of these initiatives is their $500 initial sign-up bonus.
Before we get into the bonus, let's be clear about one thing - Party Poker is still a massive online poker room. They are the fourth biggest network in the world, and you will never have a problem finding a game on their site. They are open to Canada, Europe and the rest of the world. Party Poker is used to being the biggest and the best, which is why they are aggressively hunting for new clients.
Now, back to the $500 bonus for Canadians.
This bonus is available to people who are depositing for the first time to Party Poker.
When you are signing up, make sure to enter "
KINGBONUS
" when prompted for a bonus code. This will ensure that you are eligible to receive the 100% signup bonus of up to $500.
Here is how it works:
Party Poker will match your initial deposit up to $500. This means that if you deposit $100, then Party Poker will award you with a $100 matching bonus. If you decide to "max out" the bonus, then this would mean that you would want to deposit at least $500, as Party Poker would then give you a $500 matching bonus. You need to deposit a minimum of $25 to become eligible for the bonus.
Bonuses are "earned" through participation on real-money tables. This includes real-money cash games, SNGs and MTTs.
Your bonus will be dispersed in 20% increments. The faster that you earn Party Points (which are earned through real-money play), the faster that you will earn your bonus. You will have a full 90 days to earn your bonus.
There is a misnomer out there that Canadians aren't allowed to play at Party Poker either. This is not true. Canadians are welcomed and make up one a large percentage of the total players currently on Party Poker.
If you are looking to try out Party Poker, make sure to enter "
KINGBONUS
" when signing up. This is an exclusive Party Poker sign-up code that is available to Canadian players.
After you sign up, make sure to keep an eye out for freerolls that are available exclusively for Canadian players. You will be able to find details of these freerolls in the Party Poker lobby.
Remember - there is life outside of Full Tilt Poker and Pokerstars! Take advantage of Party Poker's aggressive new sign-up bonuses and sign up today!
Canadian Party Poker Bonus -->
KINGBONUS
--
Filed Under:
Poker Bonus Promotions