Spadeclub Promotional Code (www.spadeclub.com)
Published on 2008-10-07 06:50:47
Spadeclub Promo Code -->
THEKING
Spadeclub.com is owned and operated by Cardplayer.com. Spadeclub is a completely legal online poker room that is freely available to residents of the United States.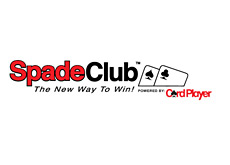 How does the company get around the rules and regulations imposed by the United States Government? There are no tournament buy-ins and no deposits. Instead, members pay a $19.99 per month fee that gives them access to 350 tournaments per week.
That being said, the money that is available to be won on the site is very real. Spadeclub.com has a total of $100,000 in tournament prize pools every month. If you win a tournament, then you can request a cashout just like with any other site. The difference is that since the site doesn't require you to buy in to a tournament and doesn't charge rake, they are completely legal and can operate within the United States.
Here is how it works. You pay $19.99 per month to become an "Exclusive Member". This gives you access to the $100,000 in prize pools that are guaranteed by Spadeclub.com every month, including the $40,000 Mega Monthly. With this membership, you have access to all of the Sit and Go's and tournaments on the site. An "exclusive member" is given 100 points per day to use in the tournaments of their choice. There are two $500 Daily Cash tournaments that run every day, a $5000 tournament every week, and a $40,000 Mega Monthly tournament every month. You can also earn more points through 9,18 or 27 person Sit and Go's. The more you play, the more points that you can earn. The more points that you earn, the more tournaments that you can play.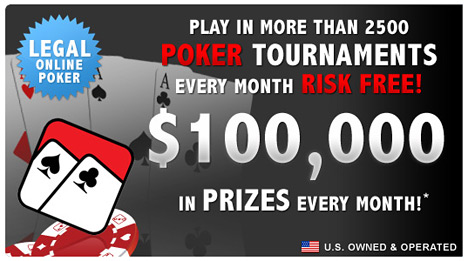 The biggest advantage of a site like Spadeclub.com is that you can never lose money. Your investment is restricted to $19.99 per month - it is simply impossible to lose more than that, as the site doesn't allow buy-ins or deposits. If you are worried about the legal situation in the United States as it pertains to poker, then Spadeclub.com just might be your best bet.
Another positive of Spadeclub.com is that you can use your credit card to play. Since Spadeclub.com is a completely legal site, you can use your credit card to sign up for your monthly membership. Many online poker sites such as Full Tilt Poker and Pokerstars don't allow the use of many credit cards, due to the credit card companies blocking online gaming transactions.
Spadeclub.com has a large and friendly community of players. They also have a large number of promotions, including one that allows you to win a seat into the 2009 Five-Star World Poker Classic WPT Championship.
Sign up today, and best of luck at the tables!
Spadeclub Promo Code -->
THEKING
--
Filed Under:
Poker Bonus Promotions