Published on 2008-09-22 07:07:24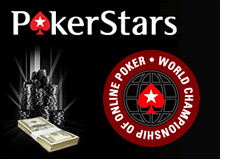 Right now there are currently just over 200 people battling it out for the 2008 WCOOP Main Event Championship. The winner will earn $1.775 million dollars, while the second place finisher will make just over $1.3 million dollars.
The real winner of the 2008 WCOOP will be Pokerstars though, as the popularity of this tournament continues to exceed their wildest expectations. There were some who thought that there would be an overlay in the $10 million dollar Guaranteed main event - in the end, 2185 people participated, making for a total prize pool of $10.925 million dollars.
There were some who thought that the $30 million in guarantees was too ambitious, and that there would be a number of overlays. In the end, there was just one overlay, and that was in the NL 2-7 Single Draw event (#24). The total prize pool for the entire WCOOP was just under $40 million dollars ($39.958 million dollars).
According to my quick calculations, Pokerstars made a total of
$1.82 million dollars
in tournament fees from the 33-event WCOOP. The main event generated a total of $437k in fees for the company. The next most profitable event (by far) was event #6, which was the $530 NLHE event with a $3 million dollar guarantee. Pokerstars generated just over $220k in fees from that event.
The least profitable events for Pokerstars? Event #24, which was the NL 2-7 Single Draw event. This generated $9,240 in rake for Pokerstars, and was the only event to rake less than five figures. Event #4 raked $11,010 (this was the 2-7 Triple Draw event).
Some other interesting facts and figures from this year's WCOOP:
-"thedonator" led the way with most cashes (10). "PearlJammer" and "TheTownhouse" both had nine cashes.
-not including the main event, there were a total of 22,520 unique players in all of the events, who combined for a total of 53,573 buy-ins.
-prior to the main event, 118 countries were represented in the 2008 WCOOP, with players from 78 different countries cashing
-In terms of the most cashes by one country, the United States led the way and it wasn't even close. Canada was a distant second, and Germany was third
-"copi", "thedonator" and "emptyseat88" are in a three-way tie for most lifetime WCOOP cashes (20)
-Greg "Fossilman" Raymer has the highest number of lifetime cashes by a Pokerstars Pro (15)
-most lifetime WCOOP final tables by one player ("Lenny", with a total of 5). If "ElkY" final tables the main event (he is still alive), then he would tie "Lenny"
All in all, the 2008 edition of the WCOOP was a massive success for Pokerstars, which shouldn't be all that surprising given their rapid growth over the past few years.
--
Filed Under:
Poker Room News