Published on 2008-09-17 23:31:13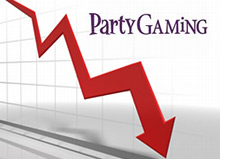 Many North American and European publicly traded stocks have been hammered over the past couple of months, and PartyGaming is no different. The stock of PartyGaming (PRTY) closed at 173.50 today, which marks the lowest level that it has ever traded at (don't forget that the company did a 1:10 reverse split in May). The stock closed down 14.50 points on the session, or 7.71%.
PartyGaming has lost nearly 100 points of value in just three short months. On June 17th, 2008, the stock closed at 270.50 - on September 17th, 2008, the stock closed a full 97 points lower than that level.
When the company first went public in 2005, it traded as high as 1800 (split adjusted). When the UIGEA was enacted, the stock dove from approximately 1,070 to 300, but then slowly worked its way back up to around 560 or so. The stock then proceeded to retreat from its April of 2007 levels, and has never come even close to reaching those levels again.
According to the PartyGaming website, the company now has a value of 714 million pounds. To put this into perspective - when the company initially went public in 2005, it had a value of 4.64 billion pounds on its first day of trading. In the months that followed, the company's stock traded up an additional 39%, giving the company a valuation of almost 6.5 billion pounds. Sure the company has had to deal with some trials and tribulations (namely UIGEA), but still - this is quite the stunning decline.
Partygaming has struggled to create an identity for itself post-UIGEA. Their highest-earning players have largely moved over to Pokerstars and Full Tilt Poker (by their own admission), and they are finding themselves in a fierce battle with the iPoker network, the Ongame Network and Everest Poker as well. In a hyper-competitive online poker landscape, Partygaming seems to be moving backwards while other companies are moving forward.
Will a new CEO help? Will a settlement with the DoJ help (if it happens)? Will the company's diverse product offerings help? Or will the once-enormous company continue to sink into obscurity?
--
Filed Under:
Poker Room News
|
Random Poker News