Published on 2008-09-13 00:37:37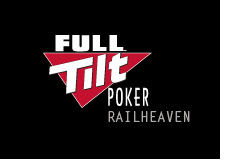 RailHeaven on Full Tilt Poker, which is the six-max $500/$1000 NLHE game, has seen tons of action over the past couple of weeks. The game has produced three of the largest online pots ever over the past ten days (with the biggest being a $490k+ pot between Peter W Jepsen and Tom "durrrr" Dwan - Jepsen held 6-9 os and won with a straight after the flop came T-8-7).
Well, on Friday morning, the biggest ever online cash game pot was played. This time the participants were Hac "trex313" Dang and "patatino", who is widely rumored to be Guy Laliberte. The final pot size was $609,730, easily beating the "durrrr" / Peter W Jepsen pot from earlier in September. As a matter of fact, there were two pots in excess of $500k that were played on Friday morning.
"patatino" is widely regarded as being a fish, and whenever he is playing in the game, the table will quickly fill up. If you pull his stats on HighStakesDB.com, it's not hard to see why people want to play with him.
"patatino" has been doing well as of late though. He was the big winner in the "RailHeaven" game that ran the other night, clearing around $500k when all was said and done. If you'll notice, the game will never break as long as "patatino" is playing - as soon as he leaves the table, the game will quickly end. A few nights ago, the "RailHeaven" game ran long through the night, breaking at around 11 am EST after "patatino" finally stood up from the table.
Hac "trex313" Dang also participated in the "big" game that ran a few nights ago. Dang, along with his brother Di "Urindanger" Dang, are two of the biggest winners on Full Tilt Poker in the past year.
So that's the basic history behind the biggest online pot ever. "patatino" is widely regarded as being the weakest player in the game (by far), and players will gladly get involved in big pots with him.
The pot was played at around 10 am EST on Friday. "trex313" had a stack of $297,766.50, while "patatino" had $307,080.
"patatino" limped in pre-flop. "trex313" was in the small blind and called. Phil "OMGClayAiken" Galfond was the Big Blind and raised to $5,000. "patatino" and "trex313" both called.
The flop came T-6-8 with two diamonds. "OMGClayAiken" led out with a bet of $9,200. "patatino" raised to $35,000. "trex313" then raised to $88,000, and "OMGClayAiken" got out of the way. "patatino" re-raised all-in, and "trex313" called.
"patatino" had the Q-2 of diamonds, while "Trex313" had the J-9 of diamonds. "patatino" would win with any diamond or any 2, while "trex313" would win with a Queen, an eight (that wasn't a diamond), a Jack or a Nine (the Queen, Jack and Nine of diamonds were already in play).
The turn brought the two of hearts, and the river was the four of clubs. "patatino" took down the massive pot with a pair of twos.
Don't feel too bad for "trex313" though - he took down a massive $522k pot against "durrrrr" just a half an hour later. The board read 5-J-9-2-Q, and "durrrr" pushed all-in on the river. "trex313" requested time, and then called for the rest of his stack ($218,191). "durrrr" turned up pocket Jacks for a flopped set, while "trex313" showed Q-Q for a rivered set. This means that of the six biggest online poker cash game hands ever, Tom "durrrr" Dwan has been involved in four of them.
The "RailHeaven" game is currently underway right now. "patatino", David Benyamine and Patrick Antonius are all sitting at the table. If "patatino" sticks around, then the game could last all night once again. David Benyamine has a stack of more than $500k, Antonius has $300k and "patatino" is sitting at the table - don't be surprised if another huge pot goes down tonight.
--
Filed Under:
Cash Game Results