Published on 2008-09-08 08:54:38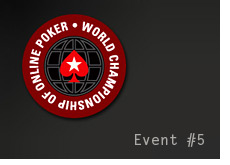 Sunday was a great day for online poker.
You had the conclusion of the two-day $25k Heads-Up Pot Limit Omaha event on Full Tilt Poker (eventually won by "slaktarn", with Patrik Antonius finishing in second place). You had WCOOP event #6, which was the $530 buy-in, three million dollar guaranteed NLHE event (still in progress). And you also had the big $10,300 buy-in "High-Roller" NLHE event on Pokerstars which drew some of the top players in the world, including Tom Dwan, Greg Raymer, Barry Greenstein and many others.
The final table included a number of familiar names, including the likes of Jason "purplEUROS" Rosenkrantz, "DuckU" and "gbmantis".
A couple of names were also at the final table that many people may not have expected when the tournament began: Chris "Money800" Moneymaker and Orel Hershiser.
Chris Moneymaker ended up in sixth place, collecting just under $140k for his efforts. His final hand came when his A-4 ran into the pocket Kings of "Choron", and he wasn't able to spike an Ace.
Orel Hershiser finished up in ninth place, collecting over $54k for his efforts. Hershiser's last hand came when he was dealt pocket Aces - unfortunately his opponent flopped a set, which turned into a full house by the river. Orel Hershiser is a former MLB pitcher who won a Cy Young and a Gold Glove in 1988. Hershiser first burst onto the poker scene when he surprised many by making it to the quarterfinals of the 2008 National Heads-Up Poker Championship on NBC.
In the end though, the tournament (and the $618k) was won by "dorinvandy", who defeated "DuckU" in heads-up play. The end came for "DuckU" when the top players got their chips in the middle on a flop of T-8-7 with two spades. "dorinvandy" held TT for top set, and "DuckU" held the Q-9 of spades for the flush draw and open-ended straight draw. The turn and river brought no help to "DuckU", and "dorinvandy" took down the tournament.
--
Filed Under:
Online Poker Tournament Results