Published on 2008-08-26 08:45:07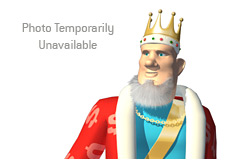 Plenty of scorn has been heaped on Scotty Nguyen following his now infamous $50k HORSE final table appearance that aired on ESPN last week. The outcry from the poker community was loud enough that Nguyen actually issued a "letter of apology". The damage was done though, and many people will never look at Nguyen in the same way again.
Let's not forget though - Scotty Nguyen has given us some "golden" moments during his time as a professional poker player. Here's a few of them..
1. "The Big Blind." Quite possibly the greatest Scotty Nguyen moment ever. This came from the movie "The Big Blind" which was released in 1999. Watch as Nguyen completely serves the owner of the liquor store and wins over the fawning clerk in the process:
2. "You call this one and it's all over, baby." Heads-up action in the 1998 World Series of Poker main event. Nguyen pushes all-in, and while his opponent is agonizing over whether to call or not, Nguyen utters his now famous line - "You call this one and it's all over, baby." Mike Matusow is on the rail, and is particularly happy when Nguyen takes the tournament down. Matusow had staked Nguyen in this event, and received a hefty payout when Nguyen won:
3. Scotty Nguyen Dominates in a Cash Game. I'm not exactly sure what this is from, but it's pretty funny. I particularly like the background music, the quick close-ups of the cards that the guy in the suit is holding, the guy in the suit practically screaming "I CHECK" after the flop, and the reactions of the two players once their hands are turned up. This is classic:
4. Nguyen vs Brenes at the 2003 World Series of Poker main event. Against most other players, this wouldn't be worth a mention. However, given that his opponent is Humberto Brenes (who I'm sure is a nice guy, but his antics are way over the top), it has to be included on the list:
--
Filed Under:
Player Profiles
|
Poker on TV