Published on 2008-08-07 01:45:34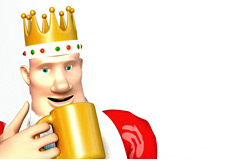 If you've been railing some of the high-stakes No Limit Hold'em cash games on Full Tilt Poker as of late, then you have probably seen "Jimmie23" playing (and usually doing extremely well). "Jimmie23" is an extremely talented poker player who seems to thrive in the short-handed or heads-up cash game format.
"Jimmie23" entered the $25k Heads Up Championship on Full Tilt Poker that took place a couple of months ago. He made it past the first round, beating Peter W Jepsen. He lost in the second round to "DaEvils" - with the board reading 3 8 6 7 with three diamonds, the two players got their chips into the middle of the table. "Jimmie23" held pocket sixes for a set, and "DaEvils" held 8-9 (with the nine of diamonds) for a straight flush draw and top pair. The river was the five of clubs, and "DaEvils" moved on to the third round, having made his straight.
"Jimmie23" is also known as "alusivpnkbny" on Pokerstars. "Jimmie23" seems to have been doing extremely well as of late. He has had a number of high-stakes run-ins recently with "OnTheRize". The two have played a number of heads-up matches in the $500/$1000 capped No Limit Hold'em game on Full Tilt - in one recent match, "OnTheRize" quit "Jimmie23" when "Jimmie23" had over $600k on the table. Based on comments exchanged between the two players, "Jimmie23" did extremely well, though his exact profit was unknown.
So who is "Jimmie23" on Full Tilt Poker?
"Jimmie23" is Jimmie (last name deleted by request), a young poker player (in his early 20s) from Boston. In addition to doing extremely well for himself in heads-up NLHE cash games on Full Tilt, he has also had some success in "live" tournament poker. Jimmie took down the $2500 No Limit Hold'em event at the 2007 Borgata Poker Open for over $230k. Jimmie has had three five-figure plus "live" cashes in his short career, including a 33th place finish at the 2007 PCA.
Also, before deciding to focus mainly on cash games, "Jimmie23" (or "alusivpnkbny" as he's known on Pokerstars) had a number of impressive showings in online poker tournaments in late 2007. He took down a $109 Rebuy event on Pokerstars for over $33k, and also finished second in a Nightly Hundred Grand on Pokerstars for over $18k.
"Jimmie23" is obviously an extremely talented poker player, and a name that you should definitely keep an eye on.
--
Filed Under:
Player Profiles