Published on 2008-07-30 09:10:40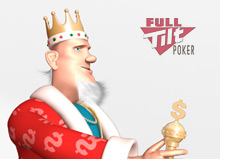 What do you do when you're an online poker player with a multi-million dollar bankroll and a sick urge to gamble? You hop onto Full Tilt Poker and "flip" in the highest limit Pot Limit Omaha games on the site.
It seems as though over the past week or so, the legitimate high-stakes Pot Limit Omaha cash games have been taking place during the day (North American time), and all of the flipping has been taking place at night. Some of the biggest names on the site have been taking part: Tom "durrrr" Dwan, Patrik Antonius, David Oppenheim, "IcallSoWhat", John Juanda, and more. Based on data from HighStakesDB and a casual observance of some of the games, "LoLiNa" appears to be one of the biggest winners so far when it comes to flipping.
What exactly is "flipping"?
Everyone agrees to put in a certain amount of money pre-flop. If you are flipping for $20,000, that means that everyone who agrees to the flip will put in $20,000 pre-flop, regardless of the cards that they are holding.
After that, everyone agrees to check down the rest of the way, regardless of how strong their hand is.
Players tend to reload fairly quickly after they bust, which leads to some pretty monstrous stacks appearing at the table after a short period of time. If there are a number of people flipping at the table, then a player who hits a rush of cards can accumulate hundreds of thousands of dollars in just a couple of hands. I've seen $8k flips, $16k flips and $20k flips over the last couple of days on the site.
The high-stakes action on Full Tilt has died down a bit recently now that the World Series of Poker and Bellagio Cup are over. I would expect less flipping once some of the regulars (such as David Benyamine) return to action. Until then, keep your eyes peeled for some more late-night degenerate flipping action on Full Tilt Poker.
--
Filed Under:
Cash Game Results
|
Random Poker News