Published on 2008-07-15 06:54:30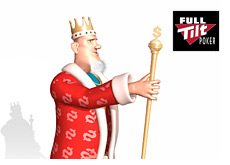 "SteveSung" is currently leading the way in the high stakes cash games on Full Tilt Poker this month, as he has currently banked a total of $720k in profit as of July 13th. These profits have come over a total 3352 hands and 117 sessions, according to HighStakesDB.com. "SteveSung" is currently up about $1.35 million dollars on the year.
Next on the list of the biggest cash game earners on Full Tilt in July is "OnTheRize". "OnTheRize" has currently made approximately $604k in July, with all of this profit coming from the high stakes Pot Limit Omaha games. "OnTheRize", according to HighStakesDB, has made this money over just 22 sessions and 1,327 hands.
The top five is rounded out by "War Stories" (+$509k), David "Aeron73" Benefield (+$509k) and Phil Ivey (+$466k). Benefield also had a deep run in the 2008 World Series of Poker main event, eventually finishing in 73rd place.
There are some more well-known names in the top ten list of most profitable players so far in July, including: "ICallSoWhat" (+$412k), Jason "pr1nnyraid" Rosenkrantz (+$331k) and Phil "OMGClayAiken" Galfond (+$259k).
The list of the top ten cash game losers on Full Tilt in July is populated by some very well-known names.
First off, "patatino" is currently the biggest loser on the site in July, having dropped a staggering $1.524 million dollars in just 13 days.
Patrik Antonius is not faring much better. After recently signing a deal with Full Tilt Poker, Antonius went on a solid run, but has since given all of that profit back, and then some. Antonius is currently down over $1.2 million dollars in the month of July. July has not been a good month for Antonius, and he is probably on a bit of tilt right now.
Next up is David Benyamine, who has given back over $830k to the high-stakes poker economy in the past few weeks. This comes after an incredibly strong July for Benyamine, so don't feel too bad for him.
The remaining players on the list include: "Erik1223" (-$437k), David Singer (-$223k), John Juanda (-$204k) and Gus Hansen (-$197k). Hansen has had an absolutely appalling year on the site, having dropped a total of $1.907 million dollars.
It appears as though HighStakesDB.com is now tracking the high stakes Omaha Hi/Lo and H.O.R.S.E. games on the site, which should make these reports much more accurate in terms of what players are actually winning and losing.
Source:
HighStakesDB
--
Filed Under:
Cash Game Results