Published on 2008-07-12 07:17:31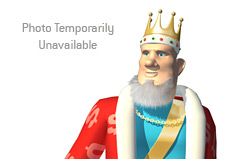 Patrik Antonius is normally emotionless and extremely laid-back.
Recently Antonius had a run-in with the assistant golf pro at the Wynn Golf Club, and has taken to the Internet to vent and explain why he will never be giving the Wynn any of his business again.
Antonius and a number of his friends (including his agent Chris, Brandon Adams and others) played a round of golf at the Wynn Golf Club. Most of the players had their own caddies, but apparently the Wynn has a policy of providing their own caddies for players. Antonius and his friends insisted that their personal caddies be allowed to accompany them on the course. The assistant golf pro at the Wynn Golf Club, named Greg, said that their personal caddies could only ride in the carts and watch them play - they weren't allowed to perform any typical "caddying" duties.
Antonius said that he was "playing the best round of his life" after five holes, and was up tens of thousands of dollars on his fellow players. According to Antonius, this is where everything went downhill.
Antonius wrote that "the assistant pro drove around the course spying on us seeing if our personal caddies were staying in the cart like they were told." Apparently as the players were teeing off for the sixth hole, the assistant pro threw the personal caddies off the course, accusing them of breaking the rules of the course and providing caddying services. This tilted Antonius, who played two more holes, lost $20,000, and then stormed off the course.
If you want to see Antonius the most heated that you will probably ever see him, click on the Raw Vegas link below. I have also included a link to his most recent blog posting, where he writes about the incident as well. He wrote in his blog that "You can bet every penny you have that the next time I lose 1 million dollars at the craps table, it will not be at the Wynn."
If that wasn't enough, Antonius lost a $100,000 freezeout to Brandon Adams tonight on Full Tilt Poker in lightning quick fashion. The entire match couldn't have lasted more than 25 hands. Adams flopped trip 8's, improved to a full house on the turn, and got Antonius to commit the rest of his stack on the river. Not a good couple of days for Antonius.
Link:
Raw Vegas
Link:
Antonius Blog
--
Filed Under:
Random Poker News