Published on 2008-07-09 04:55:21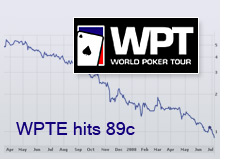 The publicly traded stock of the World Poker Tour continues to crash. On Tuesday, WPTE closed at 89 cents per share, meaning that the company now has a valuation of just $18.24 million dollars. The stock is being weighed down by a number of different concerns. First off, GSN decided not to pick up their option to air the seventh season of the World Poker Tour. This has left the World Poker Tour without a television deal for almost a month now (the WPT announced on June 9th that they had entered into negotiations to find a new television deal). The television show is obviously the heart of the company, and without a TV deal, the stock is obviously going to suffer. Investors are openly wondering why WPT executives are taking so long to secure a new deal, especially given that the stock is dropping on an almost-daily basis.
The problem for the WPT is that any new television deal will almost definitely bring in substantially less licensing fees for the company. I am sure that the network that does pick up the rights to the show will be aware of the fact that GSN decided to pass on airing the seventh season. The GSN deal already brought in significantly less $ per episode compared to their Travel Channel deal - to accept another per-episode cut in licensing fees has to be a major concern for the WPT, but it doesn't seem like they can avoid it. They are in a very weak bargaining position right now.
Second, a strong television deal is crucial when it comes to pushing some of the company's other ventures, such as Club WPT and their online gaming business. Without a strong presence on television, these two ventures (on which the company has pinned a great deal of their hopes) are likely destined to fail.
The company still has $26.9 million in cash and cash equivalents, but the problem is that they are burning through millions of dollars every quarter. In the first three months of 2008, according to their most recently filed 10-Q, the company burned through $4.1 million dollars. So while they do have a small cushion, this money isn't going to last forever, especially if they are forced to take less in licensing fees from a new television network.
It will be interesting to see what Steve Lipscomb does to try and turn the fortunes of the company around. The big question: is it too late?
--
Filed Under:
Random Poker News