Published on 2008-06-29 01:38:32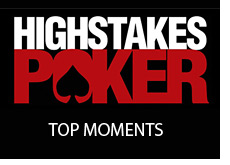 For many poker fans, "High Stakes Poker" was their favorite poker show. The show featured some of the best players in the world playing in a high-stakes cash game. On any given night, you could have a $500,000+ pot. The show featured less banter from the announcers and more banter from the players, which is what people really wanted to hear. Every poker player has imagined themselves taking a seat at the "Big Game" and playing with the best in the world; "High Stakes Poker" allowed them a glimpse into this lifestyle.
The fate of "High Stakes Poker" is unknown at this time. The show is broadcast on GSN, and recently the network decided not to pick up the seventh season of the World Poker Tour. This decision almost certainly means that they won't continue to air "High Stakes Poker" anytime in the future. A new season of the show has not been filmed.
Sadly, it appears as though "High Stakes Poker" might be dead. There were a total of 56 episodes over the course of four seasons of the show. Here are some of the best moments from the show, in no particular order:
Greenstein vs Farha - KK vs AA
Negreanu vs Hansen
Hellmuth vs Greenstein
Farha vs Gold
Laliberte vs Benyamine
Antonius vs Farha
High Stakes Poker - Phil Hellmuth vs Mike Matusow
Phil Ivey vs Brad Booth on High Stakes Poker Season 3
Negreanu on Tilt After Lindgren Hits Quads
Patrik Antonius vs Jamie Gold on High Stakes Poker Season 4
Brunson vs Laliberte
--
Filed Under:
Poker on TV