Published on 2008-06-18 01:19:28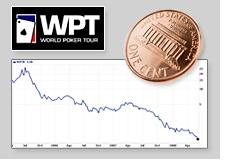 The publicly traded stock of the World Poker Tour (WPTE on the Nasdaq) dipped as low as 98 cents on Tuesday, officially bringing the company into "penny stock" territory.
The company now has a valuation of just $20.49 million dollars, which is just a sliver of its previous total market capitalization. The stock managed to close at $1.00 even on Tuesday afternoon, but one has to wonder how long the company can keep its head above that mark.
The World Poker Tour has been beset by a number of different problems. GSN decided not to pick up its option to show the seventh season of the World Poker Tour. This has left the company scrambling to find a new network on short notice, which will undoubtedly result in a less lucrative deal for the company. Their deal with GSN was already at a sharp discount to their deal with the Travel Channel. I can only imagine that other networks will try to capitalize on the fact that the World Poker Tour is desperate to find a new home for their product.
One of the World Poker Tour's biggest problems is that their show has been lost in an ocean of poker programming. Many different shows have surfaced over the past few years, looking to cash in on the poker boom. This has led to over-saturation in the market which has negatively impacted the ratings for the World Poker Tour.
The poker industry in general is still very strong, but interest has certainly leveled off since the "boom" of 2003-04. Players still want to participate in the WPT events, and the fields were steadily growing up until 2008, but people seem to be less interested in watching the product on TV.
The World Poker Tour has also suffered greatly from the fact that their online gaming business never took off. The online gaming business was seemingly a perfect companion offering to their product on television, but it just never really took off. You can blame a number of things: the UIGEA, poor promotion, intense competition. Whatever the reason, the World Poker Tour's online gaming business has been a complete dud.
Combine this with an uncertain future on TV, and you have a stock that was trading for just pennies earlier today.
Can the World Poker Tour turn things around? If so, how? If they can't turn things around, then what? Will they sell themselves off? If so, who would buy them?
There are many unanswered questions right now for WPT shareholders.
You can bet that executives at the WPT are scrambling to try and get a TV deal signed as soon as possible, so that they can try and halt the slide in their stock. Is it too late?
--
Filed Under:
Random Poker News