Published on 2008-06-15 09:33:20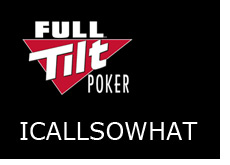 With the World Series of Poker currently taking place, there is considerably less high-stakes cash game action on Full Tilt Poker compared to other months. The likes of David Benyamine, Gus Hansen and Phil Ivey have been largely absent from the site as they focus more on their live tournament play.
"ICallSoWhat" is the biggest winner on the site in June, with a total profit of $1.24 million dollars over 9487 hands. According to HighStakesDB, "ICallSoWhat" has netted a total of $4.61 million dollars in profits so far in 2008, which means that he is currently on pace to make around ten million dollars on the year.
The top five list of the biggest winners on Full Tilt in June is filled with familiar names.
David Benyamine is currently in second place, with a total profit of $527k on the month. Benyamine has only put in around 6200 hands so far in June, which is nothing to him. As stated, he has been tied up playing for a bracelet at the World Series of Poker. Occasionally he'll show up after he is knocked out of a tournament, and sometimes he'll even show up during the breaks. Benyamine has also had an impressive 2008, as he is currently up around $2.7 million dollars on the year.
Cole South has made approximately $363k in June over just 1579 hands. "trex313" and Phil Ivey round out the top five, with profits of $338k and $239k respectively.
Patrik Antonius, fresh off of signing his lucrative deal with Full Tilt Poker, is currently up $227k on the month.
On the flip side, "Ziigmund" is currently the biggest loser in June with a total loss of $618k. "Ziigmund" had a big upswing recently, digging himself out of a hole that he had been in since the start of the year, but now he has lost quite a bit of that back. He currently sits with a total loss of $780k so far in 2008.
Tom "durrrr" Dwan is currently the second biggest loser in June, having dropped approximately $401k so far this month.
"lady marmelade" has donated another $389k to the high stakes cash games on Full Tilt in June. "lady marmelade" has now dropped a jaw-dropping $2.42 million dollars in 2008 over just 20,240 hands.
The top five list of losers is rounded out by "FinddaGrind" (-320k, this was the old account used by Antonius before he signed to FTP), and LoLiNa (-304k).
Many of the top cash game players are in Vegas right now, consumed by World Series of Poker events, golfing and live cash games. Once the main event begins in July, I would imagine that the high-stakes action will start to pick up again.
Source:
HighstakesDB
--
Filed Under:
Cash Game Results