Published on 2008-06-12 07:41:14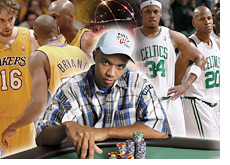 Phil Ivey has a love of high-stakes gambling. He'll bet on pretty much anything. If he's playing in a high-stakes cash game, then he is almost certainly betting hundreds of thousands of dollars on prop bets. If he is playing golf, then it's pretty much a guarantee that he has tens of thousands of dollars (if not more) riding on the outcome of each hole that is played.
If there is a basketball game being shown on a nearby TV, and Phil Ivey is standing up, shouting and paying no attention to what is going on at his table, then there is a good chance that he has millions riding on the game.
According to Pauly at the Tao of Poker (link below), rumor has it that Ivey currently has two million dollars riding on the Lakers in the NBA Finals. According to Pauly, Ivey was "intensely sweating" Game 3 of the series against the Boston Celtics, pacing back and forth and exhibiting an unusual display of emotions while playing the $2k Limit Hold'em event.
In their coverage of the $2k Limit Hold'em Event, Pokernews also made mention of the fact that Ivey couldn't have cared less about what was going on at his table - he was completely absorbed in the basketball game. He was apparently raising hands without even looking at his cards, unable to avert his gaze from the basketball game for even a second.
As always, Ivey is a whirlwind of action. He apparently has millions down on the Lakers/Celtics series, another seven figures wagered on whether or not he will win a bracelet this year, and routinely bets millions at the craps tables.
For Phil Ivey, it's just business as usual.
Sources:
Tao of Poker
Wicked Chops Poker
--
Filed Under:
Random Poker News