Published on 2008-05-28 11:12:54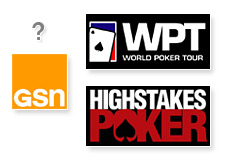 Will there be poker on the Game Show Network next year? The answer to that question is still unknown.
The Game Show Network has an option to pick up the seventh season of the World Poker Tour. The deadline for this option was previously set for May 24th, 2008.
The World Poker Tour filed papers today with the SEC saying that their agreement with the Game Show Network had been amended. The previous deadline of May 24th, 2008 has now been changed to June 7th, 2008. So by that date, we should know whether or not there will be poker on the Game Show Network next year.
Many people were speculating that the Game Show Network was planning on walking away from poker altogether. According to various published reports, "High Stakes Poker" has not filmed a new season, and it appears as though the show will not be returning to the Game Show Network. I guess that the network could have a change of heart, especially if they decide to renew the World Poker Tour - but as of now, things are not looking too good for "High Stakes Poker".
The problem is that the "World Poker Tour" and "High Stakes Poker" have not brought in the younger demographic that the GSN had been hoping for, which has ended up making both shows expendable. Couple that with a new CEO at the helm of GSN who is decidedly lukewarm on poker (at best), and you have a bleak outlook for poker on the network.
This uncertainty has been weighing on the World Poker Tour, as you can clearly see in the price of their publicly traded stock. Currently you can buy a share of the World Poker Tour (WPTE) for $1.17 - this means that the entire company is valued at just $23.98 million dollars. The all-time low for the stock is $1.01.
If the Game Show Network decides not to renew the seventh season of the World Poker Tour, then this would be a serious bodyblow for the WPT. They are already earning significantly less in their new deal with the GSN (compared to their previous deal with the Travel Channel), and having to shop around for a new deal after being cut loose by two networks would severely diminish any leverage that they had in negotiations with other networks. You can only assume that they would end up with an even worse deal if the Game Show Network cuts them loose. Which network would they end up on? What would be the terms of the deal? These are questions that are keeping Steve Lipscomb (CEO of the World Poker Tour) up at night.
We'll have more on this story once the Game Show Network makes their decision over the next couple of weeks.
--
Filed Under:
Poker on TV