Published on 2008-05-21 21:18:44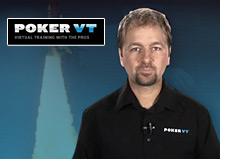 There has been another addition to the "instructional poker video" niche, as Daniel Negreanu has launched PokerVT.com (the VT stands for "Virtual Training").
Negreanu has managed to sign a number of well-known names to add instructional content, including the likes of Annette "Annette_15" Obrestad, JC "PrtyPSux" Alvarado, Justin "Boosted J" Smith, Adam "Ajunglen7" Junglen and Paul Wasicka. Negreanu and Obrestad are two of the most popular poker players in the world, and just these two names alone should bring thousands of potential subscribers clamoring to the site.
At first glance, the site seems to be extremely heavy on Daniel Negreanu content. According to the site, one of the benefits of membership is a "custom course" on Hold'em offered by Negreanu, which will include different training modules that will appeal to beginner, intermediate or advanced players. Also, another feature of the site are the "Daniel Negreanu Hand Analysis Sessions", in which you will be able to watch real hands being played while Negreanu offers his analysis of the hands. Negreanu will also somehow be critiquing the "real-time thoughts" of the players at the table. Real hands from live games will be featured, as well as "classic" hands from TV.
The cost? There is a "promotion" currently taking place until June 20th, 2008 which will feature a reduction in the one-time signup fee from $149.99 down to $119.99. There will also be a monthly fee of $29.95 for all members.
I searched the site and couldn't find any sample videos posted. The site would certainly benefit from people being able to view a snippet of the content that is available to members. The site boasts of "professionally edited" training modules - it would be nice to see a sample.
As mentioned, the site should do very well just based on the involvement of Daniel Negreanu and Annette Obrestad. Amongst casual poker fans, Negreanu is easily one of the most popular poker players in the world. Obrestad is hugely popular in the online community, and her instructional videos should prove to be a major draw for the site. The rest of the players involved in the site (Wasicka, Smith, Junglen and Alvarado) should help to provide some compelling content as well.
It will be interesting to see how well PokerVT.com does in the "instructional video" niche. Cardrunners.com seems to be far and away the market leader, and it certainly doesn't hurt that they just hired Lee Jones as their COO. With all of the names getting involved in this market, it just goes to show how much money there is for the taking in this niche. We'll be keeping an eye on this new site, and most importantly, what customers are saying about it.
--
Filed Under:
Random Poker News