Published on 2008-05-16 10:25:56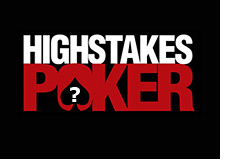 Pokerati.com (link below) posted an article a couple of days ago, surmising that the days of "High Stakes Poker" on GSN are over.
The Pokerati.com article features a quote from AJ Benza, one of the hosts of the show, in which he states that "far as Gabe and I know..the show isn't coming back."
The problem, apparently, is that "High Stakes Poker" isn't attracting the younger audience that the GSN had hoped for. AJ Benza references this himself in his posted comments on Pokerati, saying that "the network is going to go in a different direction and that aint good news for our show, especially since we skew a higher-aged audience."
According to the article, High Stakes Poker hasn't filmed a new season for 2008, and according to AJ Benza, no one from the network has contacted him regarding the filming of a new season. It appears as though "High Stakes Poker" on GSN is dead.
The big questions are:
1. Will GSN abandon poker programming completely (ie, choosing not to renew their contract with the World Poker Tour). According to the World Poker Tour's most recently filed quarterly report, GSN has an exclusive option to license season seven of the WPT. This option expires on May 24th.
2. Will "High Stakes Poker" find a new home on another network?
If "High Stakes Poker" doesn't find a new home, then it will be sorely missed. Many poker players count "High Stakes Poker" as their favorite poker show, myself included.
"High Stakes Poker" has featured some of the most interesting televised hands of the past few years, including:
Gus Hansen vs Daniel Negreanu (quads vs full house)
Sam Farha vs Jamie Gold (Aces vs Kings)
Sam Farha vs Patrik Antonius (million dollar pot)
David Benyamine vs Guy Laliberte (Laliberte lets Benyamine off the hook)
Phil Hellmuth vs Mike Matusow (Hellmuth bluffs Matusow with 7/2)
Barry Greenstein vs Sam Farha (Aces vs Kings)
Source:
Pokerati.com - High Stakes Poker Canceled? 
--
Filed Under:
Poker on TV