Published on 2008-04-29 08:51:50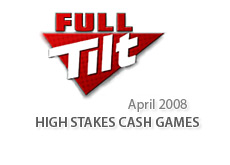 With April almost in the books, it's time to take another look at the biggest cash game winners and losers on Full Tilt Poker in April.
"ICallSoWhat" continues to lead the way so far in April, having amassed a total profit of just over $1.4 million dollars. Most of his winnings have come from Pot Limit Omaha, where he has inflicted a vicious beating on his rivals so far this month. Some of the regulars in the high stakes games on FTP have been playing live cash games in Vegas for most of April, so we haven't seen too much from the likes of Phil Ivey and David Benyamine this month.
Phil "OMGClayAiken" Galfond is currently second on the list with a total profit of $1.04 million in April. Galfond's success has been a little more evenly distributed, as he has won a substantial sum in both No Limit Hold'em and Pot Limit Omaha.
Markus Golser is the next biggest winner with a total profit of $568k. Phil Ivey is right on his heels with a profit of $511k in April, with all of these profits coming on Sunday, April 27th, when he took "trex313", "durrrr" and "OMGClayAiken" for a couple hundred thousand a piece.
"Urindanger" rounds out the top five with a total profit of $483k, while his brother, "trex313", is currently in seventh with a profit of $441k.
On the flip side, "lady marmelade" has dropped an estimated $826k. Pot Limit Omaha has been particularly nasty to "lady marmelade", as this player has been rocked to the tune of $880k playing PLO.
Second on the list is "Ziigmund", who has lost an estimated $792k on the month. "Ziigmund" has lost around $313k playing PLO, his stronger game, and an additional $478k playing high stakes No Limit Hold'em. 2008 has not been a particularly good year for "Ziigmund" on Full Tilt Poker, as he has lost an estimated $1.13 million dollars on the site so far this year.
"KObyTAPOUT" has dropped an estimated $315k over just 1358 hands in April. Rounding out the top five are tsarrast (-$285k) and Brian Hastings (-$279k).
From January 1st 2008 until now, the biggest winners on the site continue to be "ICallSoWhat" (+2.6 million), "trex313" (+2.346 million) and "durrrr" (+1.522 million). The biggest losers are Gus Hansen (-1.255 million), "Ziigmund" (-1.113 million) and "Bleachbum" (-1.097 million).
As always, this data has been supplied by HighstakesDB.
Source:
HighstakesDB
--
Filed Under:
Cash Game Results