Published on 2008-04-18 00:33:24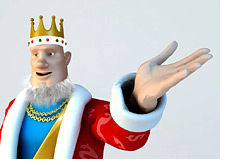 After a one month absence, Ed "Bluescouse" Hollis is back at it again, playing well above his bankroll and drawing a throng of onlookers.
The last time that Ed left us, he had busted his account yet again and was threatening to sell his house in order to rehabilitate his poker bankroll. This led to a flurry of comments on his March 5th blog posting entitled "Bust". Of the 103 total comments posted, most were imploring Hollis to step away from the poker tables and seek some professional help. Hollis was silent, presumably going through the process of selling his home and moving.
Do you have no idea what I am talking about? We've profiled Hollis before. He is a young poker player from Wales who has run up a bankroll from nothing to over 100k pounds at least three times that I am aware of, and has busted his roll each and every time. He refuses to practice any bankroll management and will play some of the toughest games on the Internet completely under-rolled. For a recap of his story,
click here
.
Ed typically plays on Crypto under the alias "_Goku_" and on Betfair under the alias "Supagrass".
Anyways, as mentioned, Ed was threatening to sell his home (which he bought with some of his poker profits) in order to raise some funds for his poker bankroll. Before his most recent bust, Hollis had mentioned that he was "borrowing" money in order to deposit to his favorite poker sites. This sounded a bit ominous, leading many people to wonder who exactly was lending him all of this money.
Anyways, Hollis busted again and disappeared for a month.
On April 9th, Hollis wrote a new entry entitled "Playing Soon".
A few days later, Hollis wrote that while he had not sold his house yet, he had in fact "released some equity". This allowed him to pay off all of his debts and still have enough left over for a 9k pound bankroll. He soon ran up his bankroll to over 15k.
His latest blog posting, titled "Failing at the Mid Levels", explains that he had dropped 2200 pounds on Betfair and was now down to a bankroll of just 8400 pounds.
The big question is - will he bust again, or make his fourth run to a 100k pound bankroll?
It's like an accident on the side of the road. You drive by, and try not to look - but you just can't help taking a peek. It's the same thing with Ed "Bluescouse" Hollis. I have included a link to his blog under this posting.
Source:
88% Concentration
--
Filed Under:
Cash Game Results
|
Random Poker News