Published on 2008-01-27 09:03:28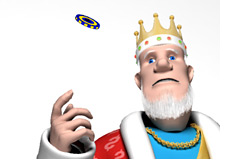 Juan Maceiras "Vietcong01" Barros is certainly one of the most talked about and polarizing online poker players today.
There is no real middle ground when it comes to "Vietcong01". You have the people that think he is a terrible poker player and simply went on a major heater in 2007. Then you have the people who say that he certainly employs an unorthodox style of play, but that there must be something to it based on his results.
The people that he regularly plays with (for the most part) don't necessarily think that he is a terrible player - they just think that he is terrible compared to others who have posted similar results. Most will accept that "Vietcong01" is a competent poker player with a very aggressive style, but they will then go on to say that his results don't necessarily match his quality of play and that he will soon suffer from downside variance.
Let's look at his results from 2007. According
to his profile
on Official Poker Rankings, "Vietcong01" booked a total profit of $484k on Pokerstars in 2007, for a total ROI of 200%.
A great deal of his profit came from two tournaments that took place within a week of each other. First, on July 8th, 2007, "Vietcong01" took down the Sunday Million on Pokerstars for $192k. Then, the very next week, he took down the "Sunday Warm-up" on Stars for 83k. These two tournaments accounted for just over $270k of his total profits in 2007 on the site.
A few months later, on October 16th, he took down the $1k Super Tuesday on Stars for $81k, just about a month after he finished second in the same tournament for $55k. About a month after that, on November 20th, he took down the Super Tuesday yet again for just under $61k. Add these three tournaments to the total and you have an estimated $467k of total profit coming from these five tournaments which took place within a three or four month span. So when you back out these results, "Vietcong01" was basically a breakeven player the rest of the months.
I'm not knocking these results - they are tremendous. I would kill to make $470k in one year playing poker. But is he a consistently strong player who would strike fear into the hearts of those playing against him?
Let's compare his results to another player who had a very strong 2007 on Pokerstars - Chad "Lilholdem954" Batista.
Vietcong01 had eleven cashes on Pokerstars in 2007 that were in excess of $10k. "Lilholdem954" had 34. They were in the same territory in terms of total profits on the site in 2007, yet you could make a strong argument that Batista was a much more consistent and overall better player, and that "Vietcong01" would have a much harder time matching his success in 2008 compared to Batista.
If you asked a number of the top online players who they would rather see at their table, I am sure that most would say "Vietcong01". There is a fine line between unorthodox plays and flat-out bad plays, and I think that "Vietcong01" crosses that line quite often.
The verdict is still out on "Vietcong01". If he can have another strong year in 2008, he will certainly silence many of his detractors.
--
Filed Under:
Online Poker Tournament Results