Published on 2008-01-23 01:36:23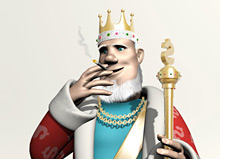 "TexasLimitKing" became an almost mythical figure on Full Tilt Poker. He seemingly came out of nowhere to play some of the best limit hold'em players in the world at nosebleed stakes. He battled the likes of Phil Ivey, Dustin "neverwin" Woolf and David Benyamine in the $1000/$2000 Limit Hold'em games on Full Tilt Poker, and did very well for himself. He kept millions of dollars on the site and rarely spoke.
Who was he? Was it Patrik Antonius? Some had speculated that it might have even been Andy Beal.
Just as quickly as he had arrived, "TexasLimitKing" disappeared, never to be seen on the site again. "TexasLimitKing" was last seen on Full Tilt Poker in late 2006 / early 2007.
Some had speculated that "TexasLimitKing" had been banned from the site. Some point to a hand with Dustin "Neverwin" Woolf as clear evidence that "TexasLimitKing" was some sort of a superuser or had been cheating in some other way. Here is the hand:
The board read Q 2 6 Q 6. Woolf (playing as "eastsideslim") bet $1000 on the river (they were playing $500/$1k Heads-Up Limit Hold'em) holding a pair of threes. "TexasLimitKing" called, holding a pair of fours, and took down the $8000 pot. Woolf immediately sat out and said that "something wasn't right" with that call. Some speculated that this was an impossible call to make, since "TexasLimitKing" could only beat one hand and one hand only - a pair of threes, which is exactly what Woolf was holding. "TexasLimitKing" eventually won all of Woolf's "liquid poker bankroll", according to Woolf himself.
So "TexasLimitKing" disappeared after wreaking havoc on the nosebleed Limit Hold'em games on Full Tilt Poker. If he wasn't banned, some asked, why would he leave the site?
First off, before we get to that, let's answer the question of who "TexasLimitKing" is.
He is Alexandros "Alex" Dalaklis. Dalaklis grew up in Greece but was born in Stockholm Sweden. He is currently 21 years old, which would have made him either 19 or 20 years old when he was dominating some of the best Limit Hold'em players in the world on Full Tilt Poker.
He is a representative of "Asteria Poker." You can
read his profile and see his picture here
.
According to his blog which you can read via the link above, "TexasLimitKing" continued to play on Full Tilt from the summer of '06 up until Christmas 2006. He stopped because "there wasn't anymore resistance left." People had figured out how good he was and decided that they wouldn't try to play him anymore. According to Dalaklis, he tried playing No Limit Hold'em but quickly grew tired of poker in general. He didn't want to play at lower limits, so he simply grew bored and quit the game altogether.
So what's he doing now if he's not playing poker? He is using his poker bankroll to fund several projects, including:
-building a "Bowlarama" in Stockholm Sweden (whatever that is)
-developing a luxury hotel in Greece
-he is planning on playing in EPT events
He also said that he purchased a stake in a factory that makes "cool and unusual furniture."
It sounds as though he will be playing poker again in the near future, mainly at "Asteria Poker." So you just might be able to witness the return of "TexasLimitKing."
--
Filed Under:
Player Profiles
|
Miscellaneous Poker Articles