Published on 2008-01-18 13:08:03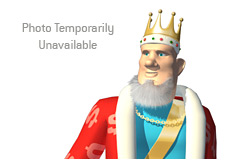 The newsflow in the poker world has been a bit slow as of late. To be honest, I've been sitting here for about an hour tonight, wondering what the hell I was going to write about. I decided to check out the high stakes action on Full Tilt Poker tonight, and I was surprised to see three $200/$400 Pot Limit Omaha tables running.
Even more surprising was seeing Gus Hansen with about $600k spread over three tables. As I write this, he is currently sitting with $364k, $118k and $78k.
Gus Hansen has these super-hot runs from time to time on Full Tilt Poker. You'll watch him sometimes on the site and think he is just about the worst player that you have ever seen in a high stakes game. He'll buy in for $16,000 and just constantly re-load, making about the worst calls that you have ever seen in your life. Then, he'll go on a run where he banks a million dollars in just a few short days, destroying everyone in his path.
Case in point, Gus Hansen had been down over $400k on Full Tilt Poker YTD up until today, and now he will be up about $150k in 2008. Based on past history, I wouldn't be surprised to see Hansen run it up substantially over the next couple of days, as he certainly seems to be in the middle of a hot spell right now.
Speaking of hot and cold spells, "Ziigmund" seems to have come back down to earth after making a half million in profits in just a couple of days in the high stakes PLO games. According to
High Stakes DB
, Ziigmund hit a total profit of over $700k on January 15th, only to lose about $500k the very next day. This can't be that surprising given his ultra-aggressive play. Given that Gus Hansen is sitting on some large stacks and Ziigmund is at each table, I wouldn't be surprised if a majority of Hansen's profits tonight have come from a tilting "Ziigmund." Ziigmund was still up over $200k in the high stakes PLO games so far this year. Surprisingly he is up in the No Limit Hold'em games as well (+$110k).
--
Filed Under:
Cash Game Results