Published on 2008-01-14 06:23:12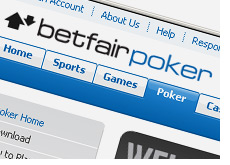 I didn't witness any of this happen myself, but early Saturday morning my inbox was filled with reports of a software glitch on Betfair Poker.
Here is how the story was related to me:
1. Betfair did a software upgrade.
2. Somehow people figured out that there was a glitch in the software that was new with this update.
3. This glitch only applied to Betfair's "six-pack" SNG's.
4. Apparently the glitch meant that if everybody went all-on on the first hand, then the first place prize would be paid out as normal, but EVERYONE would be paid out second prize money.
5. People discovered this and started mass-registering for $1k "Six-pack" Sit and Go's on the site. All of these people knew what was going on, and everyone went all-in on the first hand. Whoever won would be paid out first place prize money, and everyone else would be paid second place prize money (the full second place prize money.)
6. Thousands of pounds was won per SNG, and apparently hundreds of these went off before Betfair found out.
7. Some estimates put their "temporary" losses at between 1 million and 2 million pounds.
8. Most of these people tried to withdraw the funds as fast as possible, mostly to Paypal, and then straight to their bank accounts (Paypal is still an acceptable payment method at sites such as Ladbrokes and Betfair.com)
9. Some managed to get their money out, but most had the money either frozen in their accounts and had their Paypal accounts frozen.
10. These accounts were temporarily suspended.
11. Betfair (allegedly) deleted numerous threads about this on their poker message board.
12. Betfair will presumably not pay out these funds based on Section 9.2 of their Terms and Conditions, which states that the player agrees to refund any winnings that come about as a result of "any bug, defect or error in the software."
13. I am also assuming that anyone who managed to remove funds from Betfair and into their bank account will be permanently banned from the site until they return the funds.
14. The glitch worked for about three hours before it was detected.
Again, it is hard to find any information online about this, I am just going off of information from trusted sources in my inbox. There are some threads on Betfair's poker forum which allude to the glitch. Not exactly great news for Betfair, however I don't think that they will end up losing too much money as they seemed to have acted fairly quickly when the glitch was discovered.
--
Filed Under:
Poker Room News