Published on 2008-01-09 10:29:21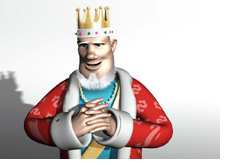 Josh "JJProdigy" Field has emerged from the shadows and made his first public appearance at the "Aussie Millions" in Australia.
"JJProdigy" is notorious for being banned from all of the major poker sites (Pokerstars, Full Tilt Poker and Partypoker) for multi-accounting. He was originally busted after winning a major Party Poker tournament under one of his multi-accounting aliases, "ablackcar." He was subsequently banned from the rest of the major sites for life.
Just recently, Josh "JJProdigy" Field posted that he was sorry for multi-accounting and hoped that the online poker community could one day forgive him. Many felt that the apology was shallow considering that Field was planning on playing his first live poker tournament soon, and simply wanted to generate some goodwill before he appeared in a live setting. "JJProdigy" revealed that he has been actively multi-accounting since being banned almost two years ago, and has been doing extremely well.
After he revealed that he was planning on playing both the PCA and Aussie Millions, Pokerstars decided that his lifetime ban on their site would be extended to the PCA. So instead of playing at the PCA, "JJProdigy" went straight to the "Aussie Millions", and was spotted at his first event, the $1150 No Limit Hold'em with $1k Rebuys (Event #5).
"JJProdigy" was eliminated by Anna Wroblewski in this event, as his AK offsuit was no match for the pocket sevens of Wroblewski after a seven came on the flop.
--
Filed Under:
Online Poker Scandals
|
Live Tournament Results