Published on 2008-01-03 10:13:02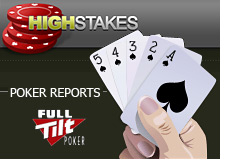 Highstakesdb.com (source link below) released their list of the top cash game winners on Full Tilt Poker in 2007. They broke it down into two lists: top winners and losers in No Limit Texas Hold'em from $50/$100 to $500/$1000, and top winners and losers in Pot Limit Omaha from $50/$100 to $500/$1000.
Determining how much money one particular player made or lost can be a complicated task, as some players played under multiple aliases in 2007 (David Benyamine, Patrik Antonius, etc.) Also, there were a few shared accounts in the results that we will never really know the true identity (or identities) of.
With that being said, we thought that we would touch on some of the interesting names and results that popped out at us out of the two lists. For a full listing of the top winners and losers, simply follow the link below:
NLHE
-the top winner in 2007 was "pr1nnyraid" with $2.19 million in winnings. The top loser was "noataima" with $3.456 million in total losses ("noataima", rumored to be Guy Laliberte, also had the worst Pot Limit Omaha results of anyone else)
-The top five winners went like this: pr1nnyraid (+2.191 million), Urindanger (+1.276 million), sbrugby (+1.158 million), LucLongley (+1.137 million), Genius28 (+1.12 million)
-Phil Ivey and Patrik "FinddaGrind" Antonius also topped the list of biggest winners with $1.108 million and $1.11 million in earnings respectively
-"Mjorgenson13" was a model of consistency in 2007, not only finishing the year as one of the top MTT players online, but also banking $967k in NLHE on FTP
-"Bawankawonk" played just 2243 hands yet banked over $700k
-as mentioned, the top loser was "noataima" with $3.456 million in losses
-the top five biggest losers were noataima (-3.456 million), Ziigmund (-1.81 million), David Benyamine (-1.484 million), magicpitch1 (-1.207 million), KObyTAPOUT (-1.153 million)
-David Benyamine and "magicpitch1" are both accounts controlled by David Benyamine
-considering Benyamine's NLHE and PLO results for 2007, one has to wonder why Benyamine would play No Limit Hold'em at all? He destroys PLO yet consistently gets destroyed in Pot Limit Omaha
-Gus Hansen dropped almost 700k. Ram Vaswani dropped almost $540k (most in one particularly bad session) and then seemingly disappeared from the cash games on the site
-Mike Matusow dropped $350k and Brandon Adams dropped $345k
PLO
-some of the biggest NLHE losers were amongst the biggest winners in PLO
-"Kaibuxxe" topped the list with $3.178 million in earnings. Niki Jedlicka, the man behind "Kaibuxxe", switched aliases after signing a deal with FTP and proceeded to drop over $1.6 million, ending the year up about $1.5 million total
-the top five winners in PLO for the year were: Kaibuxxe (3.17 million), David Benyamine (+2.634 million), KObyTAPOUT (+1.54 million), ballsrider (+1.513 million), DanDock21 (+1.33 million)
-three of Benyamine's accounts were in the top 20 for 2007 - "David Benyamine", "ballsrider" and "magicpitch1"
-Antonius and Ivey were both in the top 20 for PLO as well, with $1.246 million and $885k in earnings respectively
-Mark Vos had a surprisingly good year, finishing up almost $800k
-the top five losers list looks like this: noataima (-2.62 million), Niki Jedlicka (-1.624 million), palatino (-1.239 million), trex313 (-907k), Dustin Dirksen (-841k)
-Brandon Adams was sixth on the list of top PLO losers in 2007 with a loss of $810k
-Eli Elezra, Thomas Wahlroos and John D'Agostino were some of the bigger names to report heavy losses in the PLO games in 2007
-most consistent players in both games were probably Phil Ivey and Patrik Antonius, who were both in the top 20 for both games, and both banked about $2 million for the year
-worst player was undoubtedly "noataima" with a combined $6 million in losses across both games
-most durable player was David Benyamine who logged an incredible amount of hours in the high limit games in 2007 when you consider all of his accounts
Here are the links to the complete lists for your viewing pleasure:
PLO Results
NLHE Results
--
Filed Under:
Cash Game Results