Published on 2008-01-02 02:19:55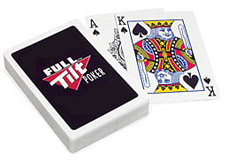 For a month or two, the high stakes games on Full Tilt Poker were practically dead. You would have a number of top players simply sitting alone on a heads-up table, waiting for someone to move up and "take a shot", but never actually wanting to play each other. This meant that you had 5-6 high stakes, heads-up tables open, but no one would ever want to play each other, with the exception of a rare game going off that never seemed to last for very long.
Then David Benyamine "quit" the site (only temporarily) and the games really died. Benyamine was often the glue that kept the high stakes games going, as he would log crazy hours multi-tabling the high limit games on the site, and people would frequently give him action.
So after a few months of dead high limit games on the site (for a variety of reasons, mainly due to most players playing live at the Five Diamond tournament in Vegas and its many sidegames), the high stakes action has returned to Full Tilt Poker.
Last night Markus Golser and David Benyamine had a lengthy battle playing $1k/$2k H.O.R.S.E. Earlier today, Ziigmund and Tom "durrrr" Dwan had a lengthy multi-table battle that had over $1 million dollars in play.
As I type this, there are two full tables of $200/$400 Pot Limit Omaha being played, both with waiting lists for the game. This has been a rarity in the past few months.
On New Year's Eve, Patrik "FinddaGrind" Antonius took "KObyTapout" for $467k, solidifying his spot as one of the biggest overall and consistent cash game players online in 2007.
The day after Christmas, Phil Ivey picked Niki "Kaibuxxe" Jedlicka up and bodyslammed him, taking Jedlicka for $549k over the course of just a couple of hours. The year, which started out so well for Niki Jedlicka, ended poorly as he dumped a load of money to Ivey over just a short period of time.
As mentioned, David Benyamine made his triumphant return to Full Tilt Poker, and has been a big reason why the games have suddenly gotten juicy again.
We can only hope that these games continue to go off on the site, as they do provide us with some entertainment during these dull winter months.
--
Filed Under:
Cash Game Results
|
Poker Room News