Published on 2007-12-24 12:36:03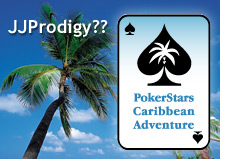 This has turned into a bit of a hot topic over the past couple of days.
For the uninitiated, Josh "JJProdigy" Field was banned from almost all of the major sites in early 2006 after being found guilty of multi-accounting. Not only that, but when he was busted, it was revealed that he was underage (16 at the time).
Earlier this weekend, "JJProdigy" posted on several major poker forums, stating that he was sorry for everything that he did, and wanted a fresh start and the forgiveness of the poker community. He also admitted that he has continued to play on all of the major poker sites that still allow US players, and that he has multi-accounted as recently as a month ago. So, not only did he break the rules in early 2006 and get busted for it, but he continued to thumb his nose at everyone and continue to cheat since then.
Now, with "JJProdigy" turning 18 in just a few weeks, he is going to be able to play in some live events. He has already stated that he plans on playing in both the PCA and the Aussie Millions.
Now, debate has raged online in the past few days as to whether or not Josh "JJProdigy" Field should be allowed to play in a live tournament that is sponsored by Pokerstars, one of the sites that banned him.
You have one side who says that what he did online should have nothing to do with what live events that he can play. Just because he was caught cheating, and then continued to cheat after being banned, doesn't mean that he should be prevented from playing a live tournament.
Then you have the other side that says that he should definitely not be allowed to play a live event that is sponsored by a site that banned him. If you were a poker site and were throwing your flagship live event, would you want a known cheater playing at the event? And not only that, but won't his presence be a distraction to the other players at the event.. most of which probably don't like him very much?
Most of the time, in these blog postings, I just pose questions and don't really take a stance either way. However, in this case I am going to state my opinion.
"JJProdigy" should 100% NOT be allowed to play at the PCA. His presence would not only be distracting to the other players, but letting him play would be making a mockery of the event. What happens if he wins? You are going to have a banned cheater as your proud champion for the next year? Surely a poker tournament has some sort of a say over who they let play and who they don't?
"JJProdigy"'s apology is empty to me. I question the timing of his apology and don't believe that he is sincere at all. I just believe that he is trying to gain a bit of goodwill before he shows up at a live event and faces a throng of angry players whom he has stolen from for the past few years (yes, multi-accounting is stealing.) Pokerstars should do the right thing and ban him for life from their PCA event, not only for their sake, but also for his.
--
Filed Under:
Online Poker Scandals
|
Miscellaneous Poker Articles