Published on 2007-11-21 02:48:34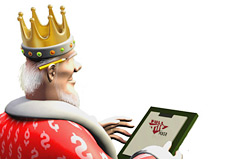 So far in 2007, most of the biggest games taking place on Full Tilt Poker have been in the high limit Pot Limit Omaha games. Last year it seems as though No Limit Hold'em was the high limit game of choice on the site, and this year it is Pot Limit Omaha.
When you look at the top 10 winners and losers, you need to remember that a couple of the aliases belong to the same player. For instance, David Benyamine and "ballsrider" are the same person. "Luigi66369" and "Finddagrind" are both Patrik Antonius, and "Kaibuxxe" and "Niki Jedlicka" both belong to Niki Jedlicka. Benyamine and Jedlicka both signed sponsorship deals with Full Tilt Poker and now play under their real names, while Antonius seems to just change his screen name every so often.
The biggest winner so far this year is "Kaibuxxe", who raked in over $3.1 million dollars over just under 64k hands. On the flip side though, Niki Jedlicka is down over a million dollars, so Jedlicka is up about $2.1 million in the Pot Limit Omaha games on the site so far this year (note, these stats are strictly Pot Limit Omaha.)
When you combine Benyamine's two accounts, you come up with a total of over $4.1 million dollars that has been won by Benyamine in these games so far this year. Benyamine is much stronger at PLO than he is at No Limit Hold'em.
Antonius's two accounts are up over $2 million on the year, and Phil Ivey is just shy of $1 million profit for the year.  Gus Hansen has had a MAJOR swing as of late - he was in the negative for much of the year, and is now up almost $900k for the year. Strong performances were also put in by DanDock21, DaFool and "Idontgiveashi."
On the flip side, the biggest loser so far this year is "noataima", which is rumored to be the alias of Guy Laliberte, billionaire owner of the Cirque de Soleil. This account is the biggest loser so far this year, and is currently down over $1.4 million dollars.
Tom "durrr" Dwan is the second biggest loser, with a loss YTD of over $1.3 million dollars. Dustin Dirksen, Eli Elezra and Brandon Adams have all taken poundings over the last year as all three players have dropped around 650k - 700k.
Brian "sbrugby" Townsend rounds out the list of biggest PLO losers with a loss of just over $560k. These losses forced Townsend to drop down in limits after he suffered from a loss in confidence.
Tomorrow we will feature the biggest No Limit Hold'em winners and losers for the year on Full Tilt Poker.
--
Filed Under:
Cash Game Results