Published on 2007-10-30 22:47:58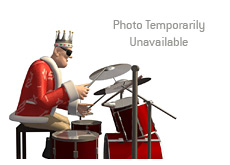 Chris Vaughn pulled off one of the most impressive accomplishments ever in online poker, winning the Full Tilt Poker $1 Million dollar Guaranteed tournament one weekend, and then winning the Sunday Millions tournament on Pokerstars the very next weekend.
No matter how good of a player that you are, this is a nearly impossible task to accomplish. Consider the fact that thousands of players registered in each tournament, and then consider the fact that you need to get lucky at least a handful of times during the tournament to win. Also, you need to dodge bad beat situations where you get in with the best of it, only to get sucked out by your opponent.
Chris Vaughn's accomplishment is a blend of great poker play and incredible luck. Statistically speaking, it is virtually impossible for a player, no matter how talented, to win back to back tournaments considering the size of the fields.
Chris Vaughn won the Full Tilt Poker $1 Million Dollar guaranteed tournament under the alias of "BluffMagCV", and then took down the Pokerstars Million the very next weekend under the moniker of "SlippyJacks."
Can Chris Vaughn possibly win a Sunday major three weekends in a row? He'll certainly be trying.
--
Filed Under:
Online Poker Tournament Results