Published on 2007-09-14 07:25:15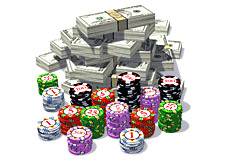 APerfectGent, aka "YourTimeisUp", is a JJProdigy disciple who tears up the upper limit cash games, SNG's and tournaments on various sites (at least those sites that he hasn't been banned from due to his association with JJProdigy).
Malicous222 tends to prefer heads-up sit and go's, and does quite well playing those and backing other players online.
The two players recently squared off in the Pokerstars High Stakes Showdown, with Malicous222 taking it down after mounting an incredible comeback.
Words were exchanged between the two players on pocketfives.com, after APerfectGent said that he was infinitely more talented a poker player than Malicous222 was.
This has led to a series of $5k Heads Up SNG's, and so far, Malicous222 has gotten the upperhand, and is up about three buy-ins. On the other hand, the two have played some $25/$50 cash as well on Pokerstars, and from what I have heard, APerfectGent has definitely had the upper hand when it comes to the cash games.
By the sounds of it, these two really don't like each other, and it sounds as though there will be a lengthy series of heads-up SNG's going down on Pokerstars. APerfectGent has proposed a series of 100 $5k SNG's with $50k held in escrow to ensure that the battle is completed.
Stay tuned..
--
Filed Under:
Random Poker News