Published on 2007-08-29 00:19:18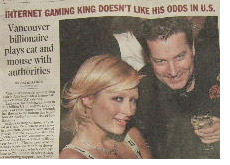 In case you haven't heard already, Bodog has been dealt a crippling blow, as they have at least temporarily lost ownership of several of their domain names, including Bodog.com. If you are wondering why they are using "newbodog.com" all of a sudden, this is why.
A company in the United States (Washington State) sued Bodog a while ago, saying that Bodog was infringing on one of the company's patents. Bodog was a no-show and the judge issued a default judgment of just under $49 million dollars against Bodog in favor of the plaintiff.
The company moved quickly, securing several domain names from Bodog, including Bodog.com.
This will obviously deal a crippling blow to Bodog's business, especially if they can't re-acquire the domain names. All of that branding, all of the marketing, all of that search engine optimization, gone, just like that.
So what are the options for Bodog now?
Can they really contest this in court in the United States? I mean, in the eye of the United States, is Bodog a legitimate organization? Won't the United States arrest anyone from Bodog that travels down to contest the judgment? Surely Calvin Ayre or any of his top associates won't make the trip down.
So what then? Bodog would have to either fork out a LOT of money to re-acquire the domains (I am thinking multiple tens of millions of dollars will be the asking price) or a more likely scenario could be a cut of all Bodog's profits going forward.
Whatever happens, this is a worst-case scenario for Bodog, and everyday that passes causes more damage to their business. Bodog is completely over a barrel right now.
--
Filed Under:
Poker Room News