Published on 2007-08-24 09:26:53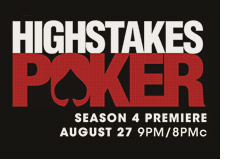 High Stakes Poker has a roster of poker players that they like to use every season. As long as they want to play, players such as Daniel Negreanu, Doyle Brunson and Gus Hansen will always have a seat at the High Stakes Poker table.
After listening to the many fans of the show, High Stakes Poker decided to include one or two young, mainly online players into the rotation. Fans wanted to see the young hotshots clash with the cagey old veterans, and so players such as Brian Townsend and Phil Galfond took a seat on High Stakes Poker.
The problem? The producers of the show felt that neither player had any "presence" or charisma. Brian Townsend even posted in one of his blog entries that the producers had told him that he was a bit boring on the show and wouldn't be invited back.
That's the problem. I mean, you have all of these incredibly gifted young poker players, but how much charisma do they really have? We can't pigeonhole all of these players, but generally speaking the young poker prodigies don't have much in the way of presence on camera. Am I wrong? For me, it's like the difference between John McEnroe and a 15 year old professional tennis player. Everyone wants to see McEnroe blow up, because he is charismatic and has an incredible presence; however, the 15 year old will just come across as snotty and immature if he pulls the same routine. Everyone wants to see Mike Matusow blow up, but who wants to see Eric Molina go off on another player? One of the players is charismatic, and one is just an ass.
That leads us to the question: if you were casting for High Stakes Poker, and wanted to include one or two "new-school" players to have on the show, who would it be? You would want someone who is:
1. Of age
2. A Strong poker player
3. Somewhat charismatic
So who would you include?
Ziigmund? (especially if he were drunk at the time)
Sorel "Imper1um" Mizzi?
Hollinggol?
Someone else?
--
Filed Under:
Poker on TV