Published on 2007-07-25 22:27:40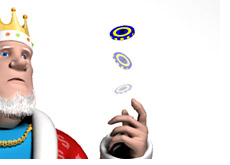 As you can tell by the title of this article, it's the same person.
KaiBuxxe is absolutely destroying the Pot Limit Omaha games on Full Tilt Poker. And when I say destroying, I mean, complete and utter destruction. KaiBuxxe is currently up over $1.7 million dollars on Full Tilt Poker just this month, and has just taken another bunch of money off of Gus Hansen to pad his monthly total even more. KaiBuxxe also plays on Pokerstars as "RealAndyBeal", and does extremely well there as well. Who is this play that is instilling fear in the hearts and minds of the top players online?
This player goes by the name of Nikolaus Jedlicka. He is 22 years old, and he currently lives in Vienna, Austria. He used to be a serious Magic player, and has selected Pot Limit Omaha as his game of choice.
Apparently Nikolaus is a bit of a gambler, and has been prone to some serious swings over the past year or so. According to several people that I have talked to that are familiar with his play, Nikolaus has busted his roll on different sites a number of times, including busting $200k several times. Apparently last year, Nikolaus went on a ridiculous heater, winning over $1 million dollars and then ended up losing it all.
As I said, Nikolaus has won almost $2 million dollars this month so far. The big question is, does he have the discipline not to lose it back? When you combine Pot Limit Omaha with the propensity to tilt, you can have a recipe for disaster. We'll be watching his results closely.
--
Filed Under:
Player Profiles