Published on 2007-04-17 23:31:46
William Gustafik, a professional poker player and chiropractor living in Las Vegas, was found dead in his condo earlier this week. It is believed that his wife, Jill Rockcastle, murdered her husband following a domestic dispute. Police apprehended Rockcastle in San Luis Obispo, where she was found unconscious and was later hospitalized.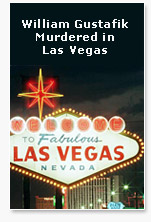 Gustafik was found in the posh new development Panorama Towers, just off the Strip in Las Vegas. Fellow residents of the complex include David Williams and several other big-name poker pros. The management of Panorama Towers were quick to point out that security hadn't been breached, and that the killing was likely done by Gustafik's wife. Oddly enough, police were instructed not to inform residents of the building as to what had happened.
Gustafik, 44 years old, shot to prominence after taking 10th place in the WPT Shooting Star in March of 2006, and has $165,000 in earnings over the last two years.
We will update this story as we hear more about it. Gustafik leaves behind his nine year old daughter.
--
Filed Under:
Random Poker News